NSW's native animals need more lifesavers this summer
Friday, December 16, 2016
WIRES is calling on the public to spare a thought for NSW's native wildlife this Christmas and New Year by adding some much needed support to the WIRES Summer Appeal.
According to WIRES CEO, Leanne Taylor, donations are urgently needed to help cope with the increasing influx of wildlife rescues as the temperature continues to rise during the holiday season.
"The Summer season is always extremely busy and this year is proving to be no exception," said Ms Taylor.
"Since the start of October we have already received over 27,800 calls for assistance with up to 500 per day so we need all the help we can get to manage the huge volumes of rescue calls we are expecting through December, January and February."
WIRES receives calls for help for all native species found in NSW and works closely with vets and other animal organisations to ensure best outcomes of rescue, rehabilitation and release back into the wild.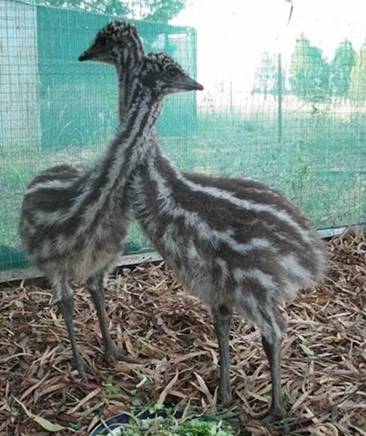 A recent WIRES success story started back in early October, when two young emu chicks (approx. 6 weeks old) were rescued after being found orphaned on a NSW country road. Under the watchful eye of WIRES volunteer Mandy Bye the emu chicks continued to thrive.
"They were funny little things when I got them," said Ms Bye. "They don't stay still for very long and can get stressed quite easily so I kept any hands-on work with them to a minimum, simply feeding them and cleaning their enclosure."
By early November the chicks had grown significantly and so were transported to WIRES volunteer, Gae Coleman who lives on 11,000 acres and with the opportunity for them to join a local population of emus. After a month, Ms Coleman started leaving the enclosure gate open so the chicks could roam freely.
"One lovely day at the end of November I went to the enclosure and they hadn't been back overnight," said Ms Coleman. "As I was looking around I saw a male emu with 18 young charges around my chicks age. I think it's safe to say they had been accepted into an existing family group which was terrific!"
WIRES relies almost entirely on donations to continue its work rescuing, caring for and releasing native Australian wildlife. Please give what you can to WIRES Summer Appeal by visiting wires.org.au or call (02) 8977 3396. All donations of $2 and over are tax deductible.
---
ABOUT WIRES
WIRES is Australia's largest wildlife rescue organisation. WIRES has been rescuing and caring for sick, injured and orphaned native animals for over 35 years with a mission to actively rehabilitate and preserve Australian wildlife and inspire others to do the same. WIRES' Wildlife Rescue Office answers calls from the community 24/7, 365 days a year, providing rescue advice and assistance for over 130,000 animals annually. Connecting wildlife to real-time assistance, WIRES full-time mobile Wildlife Ambulances operate across New South Wales, South-East Queensland and Tasmania, and WIRES had over 3,500 volunteers assisting with wildlife rescue and care in NSW. WIRES is supporting thousands of wildlife carers across Australia through a diverse range of national programs. WIRES also collaborates nationally with strategic partners to support the long-term recovery of wildlife habitat and the long-term preservation of native species in the wild.
For more information on WIRES wildlife programs visit www.wires.org.au.
MEDIA CONTACTS
WIRES Media Officer: John Grant | 0416 272 153 | [email protected]