Media Releases
Contact media@wires.org.au for enquiries or call 0416 272 153.

Read the latest updates on our emergency and bushfire projects here.
WIRES warns thousands of flying foxes could die during current heatwave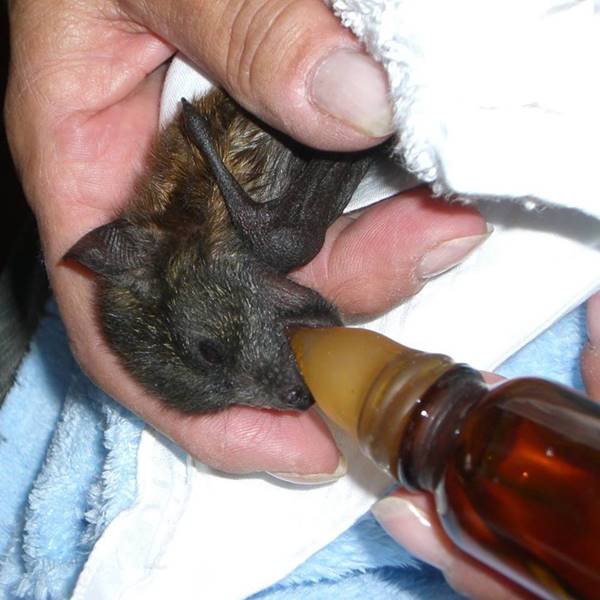 Flying-fox pup rescued from Northern NSW colony in care with WIRES (photo credit WIRES Jenny Beatson)
WIRES is warning that thousands of flying-foxes are expected to perish over the next week as temperatures across Australia continue to soar.

WIRES NSW flying-fox coordinator Storm Stanford said colonies across the Eastern states have been under stress for months due to ongoing food shortage and drought. Mass deaths have already occurred in Northern and Southern NSW.

With drought-stressed eucalypts producing little or no nectar or not flowering at all, flying-foxes have vacated many established colonies and flown south in search of food or to escape the bushfires.
"Our flying-foxes are in the worst situation I have ever seen with underweight and dying pups that have been abandoned by their mothers as nature's way of encouraging them to at least save themselves," said Stamford. "These next few days will literally see thousands more adult females and their young impacted by heat stress."
"And this is at a time when we most need this next generation of our natural pollinators to help regenerate the 2.7 million hectares of bushland in NSW already burnt out."
WIRES is partnering with other rescue organisations including Sydney Metropolitan Wildlife Service (SMWS) and Wildlife Rescue South Coast (WRSC). They are liaising with one another to manage the overwhelming number of bats currently coming into care.

SMWS Bat coordinator Sarah Curran said they are closely monitoring the most at risk colonies in and around the Sydney metropolitan area.

"Conditions for the bats are already so bad, we expect they will suffer more than usual in these extreme temperatures. We are carefully observing these colonies from a safe distance and will be ready to rescue as many as we can within our limited resources."

WRSC spokesperson Janine Davies and her team have collected more than 1700 dead or dying bats in the NSW south coast area in the past month alone.

"Most of the rescues are infants that are literally falling from the sky because they're simply too weak to cling onto their mothers due to lack of nutrition. In all my years as a rescuer I have never seen such large numbers of starving baby flying-foxes."

WIRES advises that the public should avoid any direct contact with flying-foxes, alive or dead, as there is the risk of being scratched or bitten which could lead to a virus infection - for more information please visit wires.org.au If you find a bat in distress please call WIRES on 1300 094737 or your nearest wildlife rescue organisation.
For more information email media@wires.org.au
#nswheatwaves #heatstress #flying-foxes
Newsletter
Stay in touch and get our regular rescue stories, WIRES updates and a free copy of our 15 Ways to Help Wildlife ebook
Loading...
Recent Posts
---
Months