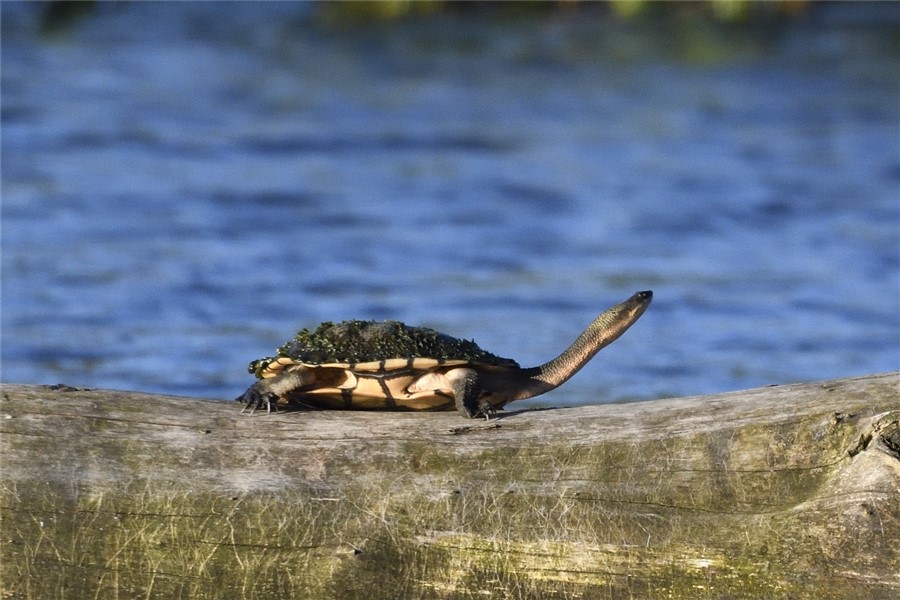 Turtle Conservation
Sunday, November 7, 2021
WIRES PROVIDES MORE SUPPORT FOR VITAL TURTLE CONSERVATION PROGRAMS
November is Turtle Month and WIRES has announced it will be supporting more projects to address the vital conservation of endangered turtle species.
Initiatives include partnering with Western Sydney University on a new project to Future Proof Freshwater Turtle Populations, as part of the 1 Million Turtles Community Conservation Program.
A WIRES grant of $175,000 to Western Sydney University will help establish a breeding program for two endangered freshwater turtle species identified by the Federal Government Bushfire Recovery Panel as requiring urgent management intervention. A breeding, release and research program is being set up at Australian Reptile Park, in conjunction with Aussie Ark, for the Manning River and Bell's River Turtles.
In collaboration with Aussie Ark, WIRES was already supporting projects for the Manning River Turtle and Hunter River Turtle. Expanding WIRES' involvement in these critical projects will help deliver the best possible long-term outcomes for these threatened species.
A global assessment of turtle populations has identified that half of the 360 turtle and tortoise species worldwide face imminent extinction. In Australia a range of factors has seen a 91% decline of Australia's most common turtle species over the last 40 years. Key factors include attacks from invasive predators, road mortality, habitat destruction, water quality degradation and extreme weather events such as drought and bushfires.
"The trajectory for turtle populations worldwide is nothing short of alarming," said WIRES Chief Operating Officer, Kyla Shelley. "We are thrilled researchers, conservation groups, wildlife organisations, government agencies and the community are coming together to address this urgent issue."
Turtle Month in November was established by Western Sydney University to highlight the dangers facing turtles during breeding season. This year, Turtle Month is also the official launch of the 1 Million Turtles Citizen Science and Community Conservation program. The aim of this community powered program is to release more than 1 million turtles throughout South-Eastern Australia each year to help restore both common and endangered species to ecological sustainable levels. The program also involves local communities by asking people to report freshwater turtle sightings using a the TurtleSat mobile phone app and website.
"Not only are turtles iconic they are also of major importance in river ecosystems and a loss of abundant scavengers will have serious effects on general river health" said Dr Ricky Spencer a co-project lead from Western Sydney University. "We're calling on citizen scientists to help us turn this problem around but reporting turtle sightings."
For community members and groups keen to get involved in freshwater turtle conservation, WIRES and Western Sydney University are asking everyone to download the updated TurtleSAT app this November and start logging all turtle sightings: https://www.turtlesat.org.au/
Additional information about the overall program is available via https://1millionturtles.com/
Dr Ricky Spencer (Western Sydney University) pictured holding an endangered Manning River Turtle at Conservation Ark. Image courtesy of Aussie Ark.
---
ABOUT WIRES
WIRES is Australia's largest wildlife rescue organisation. WIRES has been rescuing and caring for sick, injured and orphaned native animals for over 35 years with a mission to actively rehabilitate and preserve Australian wildlife and inspire others to do the same. WIRES' Wildlife Rescue Office answers calls from the community 24/7, 365 days a year, providing rescue advice and assistance for over 130,000 animals annually. Connecting wildlife to real-time assistance, WIRES full-time mobile Wildlife Ambulances operate across New South Wales, South-East Queensland and Tasmania, and WIRES had over 3,500 volunteers assisting with wildlife rescue and care in NSW. WIRES is supporting thousands of wildlife carers across Australia through a diverse range of national programs. WIRES also collaborates nationally with strategic partners to support the long-term recovery of wildlife habitat and the long-term preservation of native species in the wild.
For more information on WIRES wildlife programs visit www.wires.org.au.
MEDIA CONTACTS
WIRES Media Officer: John Grant | 0416 272 153 | [email protected]