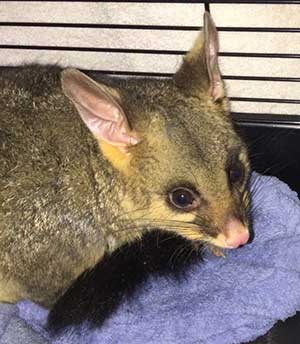 Possum with head trapped in glass jar makes full recovery and is released
Friday, June 14, 2019
"We got there just after dark, and I held up the carrier to his tree. When I opened the lid, he poked his little head out and had a look around. He knew exactly where he was, and scampered up the tree."
The large tree is home to two resident possums. Judith says the second possum heard the returning possum climbing the tree and immediately poked its head out.
WIRES was initially notified of the urgent situation just after 12pm on June 11 when a member of public called the rescue line and reported she had seen the adult male brushtail possum 15-20 metres up a tree in Blaxland.
Wildlife carer Judith attended the rescue along with a Parramatta Fire and Rescue NSW crew, which dispatched its elevated hydraulic platform. It was Police Rescue who contained the possum from the tree before handing it over to Judith.
Judith, a member of WIRES' Blue Mountains branch, then transported the distressed possum to Nepean Animal Hospital.
Arriving at the animal hospital, the possum was seen immediately by staff and sedated. The jar was then lubricated and manoeuvred off the possum's head.
Judith collected the possum later that evening and cared for it overnight.
"He was eating and drinking, he was moving well, had a nice thick coat, had no injuries or sign of illness, and was a good, healthy weight."
Despite the possum's great condition at release, Judith says the possum is very lucky to have survived.
"The jar went right up over his chin and he would've been trapped for at least 9 hours, maybe 15 or more, so by the time I got to him he was very distressed, with very shallow breathing."
"If he hadn't have been found and reported by the member of public, he wouldn't have survived the night."
"He's lucky to have that hollow in the tree and to live in an area with such good food and habitat, and human neighbours who care so much about wildlife."
WIRES says the incident is a timely reminder for members of the public to take care when disposing of rubbish, including recyclable items like glass jars, as wildlife can easily become entangled in plastics or trapped in containers.
---
ABOUT WIRES
WIRES is Australia's largest wildlife rescue organisation. WIRES has been rescuing and caring for sick, injured and orphaned native animals for over 35 years with a mission to actively rehabilitate and preserve Australian wildlife and inspire others to do the same. WIRES' Wildlife Rescue Office answers calls from the community 24/7, 365 days a year, providing rescue advice and assistance for over 130,000 animals annually. Connecting wildlife to real-time assistance, WIRES full-time mobile Wildlife Ambulances operate across New South Wales, South-East Queensland and Tasmania, and WIRES had over 3,500 volunteers assisting with wildlife rescue and care in NSW. WIRES is supporting thousands of wildlife carers across Australia through a diverse range of national programs. WIRES also collaborates nationally with strategic partners to support the long-term recovery of wildlife habitat and the long-term preservation of native species in the wild.
For more information on WIRES wildlife programs visit www.wires.org.au.
MEDIA CONTACTS
WIRES Media Officer: John Grant | 0416 272 153 | [email protected]