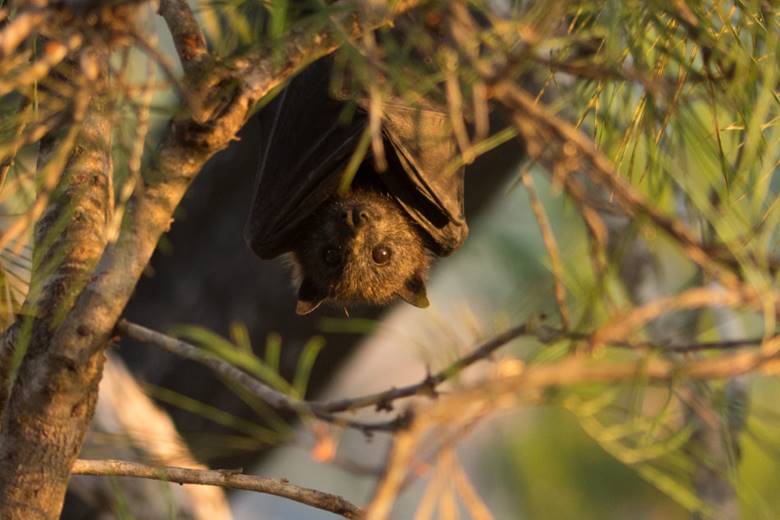 Flying-Foxes are in Trouble
Monday, September 16, 2019
Photo credits – Andrya Hart, Flying-fox at The Channon
Have you seen a flying-fox recently in the daytime in a tree? Or found one dead on the ground?
Large areas of the North Coast of NSW as well as South East Queensland are experiencing what appears to be a severe flying-fox starvation and dehydration event. It is thought that the unusually dry conditions have affected flowering and fruiting of their usual feed trees. Moisture content on foliage is currently very low, fruit and flowers also lack the normal amount of moisture and this is where bats get their nutrition and hydration.
There are many reports of bats being found alone in trees in the daytime not having the energy to return to roost in their colony. Several WIRES branches are receiving unprecented numbers of flying-fox calls for this time of the year. They, like all wildlife groups in the area, are stretched to the limit.
With a limited number of volunteer vaccinated bat rescuers, WIRES is asking the public to be understanding in this situation and would like to provide some advice should you see a flying-fox alone:
Most importantly, please do not attempt to handle the flying-fox. There is no risk to you if you do not handle the bat.
Observe the flying-fox and check if it is actually still alive. Many bats are hanging dead in trees - some are dead on the ground. If it is dead, simply scoop it up in a towel or newspaper and dispose of it.
If it is alive, DO NOT disturb the flying-fox or attempt to shoo it away. This will just stress it further and make it weaker. It needs to rest and regain strength so it can return to the colony.
Keep people and pets such as dogs and cats away so they don't stress the already compromised animal.
If the bat looks sick or injured, or is low down in a particularly public space, phone WIRES. They will help assess the situation and determine whether it needs to be brought into care.
If the bat appears uninjured and is moving around wait until the following day and see if the animal flies off overnight.
If the bat is still there the following day, phone WIRES for advice.
If you do want to assist further you can try putting some fruit such as apple or pear in nearby trees, making sure not to go close to the bat. This may in some instances give it the extra nutrition and moisture it needs to survive.
Of course if you find a live bat on a barbed wire fence or entangled in netting please call WIRES immediately and a rescuer will attend.
October to December are the birthing months. This is when females give birth to a single pup which they carry across their chests as it suckles a teat in the mother's wing pit. This starvation event could cause more females to get into difficulty birthing and more pups to be separated from their mothers. Please call WIRES if you find a flying-fox pup.
Flying-foxes are very intelligent creatures and play an important role in Australian environments. They are natural pollinators and seed dispersers and are crucial for the survival and regeneration of our native forests. Sadly, this starvation event appears to be yet another indication of the catastrophic affect of a changing climate on our ecosystems. Please do what you can to plant native trees and plants so that in the future our wildlife will have food available to them.
If you are keen to make a difference for wildlife, consider joining WIRES. For more information about how you can join read WIRES information about becoming a volunteer.
WIRES Northern Rivers covers the area of the Drake/Ewingar fires – easterly from Drake. Please phone (02) 6628 1898 for wildlife assistance. For Mid North Coast and other regions in NSW please call WIRES NSW Rescue Line on 1300 094 737.
WIRES relies heavily on the generosity of caring people for support. All donations $2 and over are tax-deductible. We need help to feed all the native animals in care, to assist, please donate now to WIRES Wildlife Food Fund.
---
ABOUT WIRES
WIRES is Australia's largest wildlife rescue organisation. WIRES has been rescuing and caring for sick, injured and orphaned native animals for over 35 years with a mission to actively rehabilitate and preserve Australian wildlife and inspire others to do the same. WIRES' Wildlife Rescue Office answers calls from the community 24/7, 365 days a year, providing rescue advice and assistance for over 130,000 animals annually. Connecting wildlife to real-time assistance, WIRES full-time mobile Wildlife Ambulances operate across New South Wales, South-East Queensland and Tasmania, and WIRES had over 3,500 volunteers assisting with wildlife rescue and care in NSW. WIRES is supporting thousands of wildlife carers across Australia through a diverse range of national programs. WIRES also collaborates nationally with strategic partners to support the long-term recovery of wildlife habitat and the long-term preservation of native species in the wild.
For more information on WIRES wildlife programs visit www.wires.org.au.
MEDIA CONTACTS
WIRES Media Officer: John Grant | 0416 272 153 | [email protected]