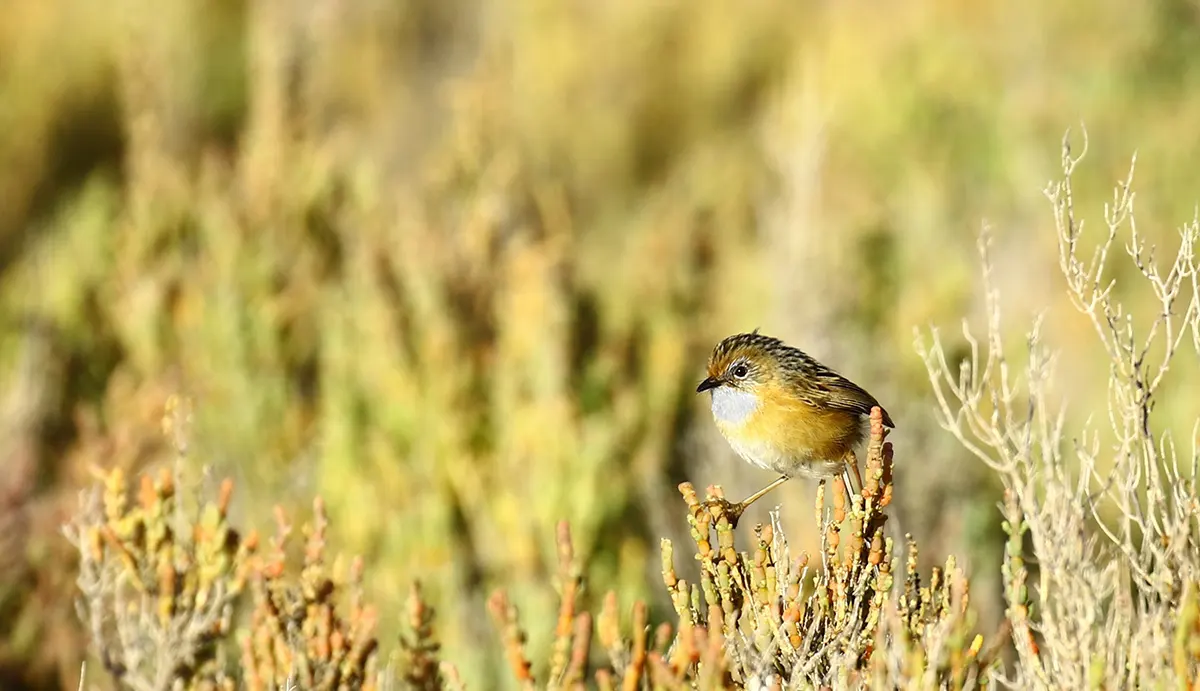 2021 WIRES National Grant Program Grantees
Wednesday, February 23, 2022
Ranges Southern Emu-wren (Stipiturus malachurus intermedius) perched upon samphire (Tecticornia sp.) Photo by Subbu Conley.
WIRES DISTRIBUTES OVER $1MILLON IN GRANTS TO SUPPORT WILDLIFE SECTOR
WIRES has announced the 67 recipients of the 2021 WIRES National Grant Program whose projects aim to improve outcomes for Australia's native animals. Over $1million has been distributed to programs around the country supporting best practice rescue and rehabilitation of wildlife, native species recovery and increasing emergency preparedness.
The four tiers of grants range from individual carers to multi-partner collaborations. Successful projects include habitat recovery, nest boxes and burrows, population monitoring and surveys, rescue and medical equipment, upgrading of rehabilitation facilities and community engagement programs. These projects support a wide variety of native animals including macropods, wombats, koalas, snakes, bats and gliders, turtles, raptors, penguins and other birds.
WIRES CEO Leanne Taylor said the grants program which will see $1million distributed each year for five years is providing important ongoing support for the sector.
"We are so buoyed by the outstanding work being done by people across this country to help our native animals. We are seeing innovative and practical solutions to address the multitude of challenges our animals face Australia wide. As we roll out this program over the next five years, we are looking forward to seeing measurable positive impacts as a result of the grant recipients' hard work and collaboration."
The two special grant recipients are:
The Mikla Lewis OAM Habitat Restoration and Enhancement Grant – Nature Foundation
Project – Helping to secure the endangered Mount Lofty Ranges Southern Emu-Wren
The Fleurieu Peninsula swamp reserve in South Australia is listed as a critically endangered ecological community and supports a significant population of the Southern Emu-Wrens. The project aims to increase conservation efforts through revegetation, increasing the area of suitable habitat to promote and support population growth along with surveys to monitor Emu-Wrens within and beyond the reserve. This involves engagement with traditional owners by undertaking a cultural heritage survey and providing cultural education and engagement opportunities with Ngarrindjeri Aboriginal Corporation.
Pat Connors Avian Grant – Native Animal Rescue
Project - Refuge Enclosures for Baby Black Cockatoos
Building of a secure and safe enclosure to allow young, endangered Black Cockatoos in care to be rehabilitated in a controlled outdoor enclosure with access to sun, wind and rain as well as a secure undercover refuge when required. The access to outside areas will support feather quality and growth along with strong bone development as well as flock bonding. The enclosure will be located in an area where Black Cockatoos naturally reside. Native Animal Rescue is partnering with Perth Zoo in the Black Cockatoo project and is the only registered wildlife hospital that supports the zoo's work in this area.