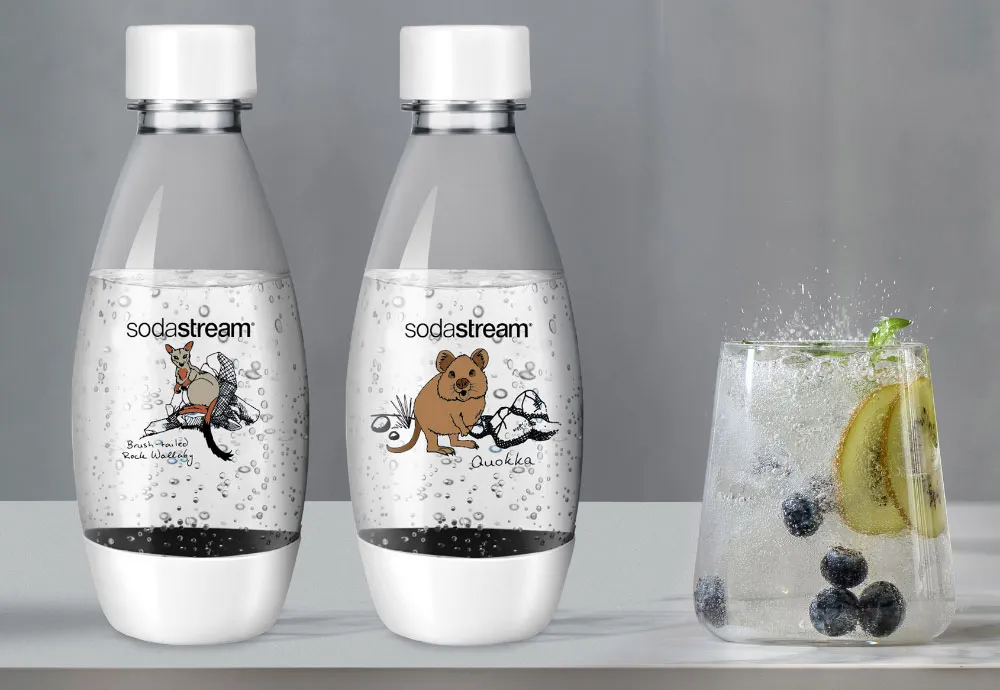 SodaStream partners with WIRES to release limited edition bottles
Wednesday, June 29, 2022
SodaStream and WIRES have created native fauna designed bottles to raise awareness of the impact of plastic pollution on local ecosystems.
Sodastream is proud to partner with animal rescue organisation Wildlife Information Rescue and Education Service (WIRES) to raise awareness of threats caused by single-use plastics to our endangered wildlife. To demonstrate its local support, SodaStream has released a limited edition range of Animal Wildlife bottles, with funds from each sale going to WIRES' education, rescuing and rehabilitation programs.
As part of the campaign, SodaStream has designed three bespoke 500ml bottle twin packs, with each pack featuring two native and endangered animals. The bottle packs will be available in intervals for customers to collect, with the first pack launching this month. The quokka and quoll set is now available online and in-store for SodaStream consumers to purchase, with a wallaby and koala, and platypus and whale shark to be released in the coming months. Throughout this campaign, SodaStream commits to donating $1 to WIRES for every Australian Wildlife bottle pack sold, helping wildlife in need.
Discarded single-use plastics are making their way into the animal food chain and as a result, threaten animal ecosystems. Without intervention, the combined impacts of invasive predators, road mortality, habitat destruction, degraded water quality, droughts and bushfires, will see some of Australia's favourite species plummeting toward endangerment and extinction. SodaStream's long-time mission is to reduce single-use plastic waste and reduce pollution and this local partnership aims to help combat this waste to Australia's already vulnerable wildlife.
SodaStream Australia Marketing Manager, Holly Walker said: "As part of SodaStream's environmental responsibility and obligation to the planet, we are always looking for ways to do better. This year we are proud to partner locally with WIRES and create a meaningful campaign that can help our consumers engage with such an important issue - plastic pollution. We are strong believers that you should protect what you love, and we hope these beautifully designed and limited edition bottles are a reminder to Aussies to continue to protect our environment and an opportunity for us to help save our endangered wildlife."
WIRES Chief Operating Officer Kyla Shelley said: "We are proud to be partnering with SodaStream in Australia to further our efforts to protect our wildlife locally. While combating the endangerment of our native wildlife is a complex issue, reducing single-use plastic waste is part of the puzzle. Our Australian animals are already vulnerable due to climate change and the threat to our environment is only getting worse. Eliminating single-use plastic is a great grassroots action consumers can take to protect our environment and favourite wildlife."
WIRES rescuers play a crucial role in the initial response of rescuing native wildlife and facilitating their rehabilitation. There is an increasing trend in the number of sick or injured animals being reported each year. With the added pressures of climate change and the effect of land and marine debris on native populations, it is likely that these factors have contributed to the increasing number of wildlife requiring rescuing.
The Australian Wildlife quokka and quoll edition are now available online and in-store in participating retailers including selected Harvey Norman stores for RRP $21.95. The wallaby and koala set will be available for purchase in September, and the platypus and whale shark will be released in November.
To purchase your own WIRES x SodaStream bottles and learn more head to the SodaStream website.
---
ABOUT WIRES
WIRES is Australia's largest wildlife rescue organisation. WIRES has been rescuing and caring for sick, injured and orphaned native animals for over 35 years with a mission to actively rehabilitate and preserve Australian wildlife and inspire others to do the same. WIRES' Wildlife Rescue Office answers calls from the community 24/7, 365 days a year, providing rescue advice and assistance for over 130,000 animals annually. Connecting wildlife to real-time assistance, WIRES full-time mobile Wildlife Ambulances operate across New South Wales, South-East Queensland and Tasmania, and WIRES had over 3,500 volunteers assisting with wildlife rescue and care in NSW. WIRES is supporting thousands of wildlife carers across Australia through a diverse range of national programs. WIRES also collaborates nationally with strategic partners to support the long-term recovery of wildlife habitat and the long-term preservation of native species in the wild.
For more information on WIRES wildlife programs visit www.wires.org.au.
MEDIA CONTACTS
WIRES Media Officer: John Grant | 0416 272 153 | [email protected]