How Funds Are Used
WIRES (NSW Wildlife Information Rescue and Education Service Inc.) began rescuing in 1985 and launched formally as an organisation in March 1986. WIRES is registered with the Australian Charities & Not-for-Profit Commission (ACNC) and all gifts to WIRES $2 and over are tax-deductible within Australia.

Over 35 years of service to wildlife
For over 35 years WIRES have worked hard to ensure all resources gifted to us are used as efficiently and effectively as possible to help native animals. Having grown consistently over the last three decades with the ongoing support of the community, WIRES volunteers rescue wildlife 365 days a year, helping tens of thousands of animals annually.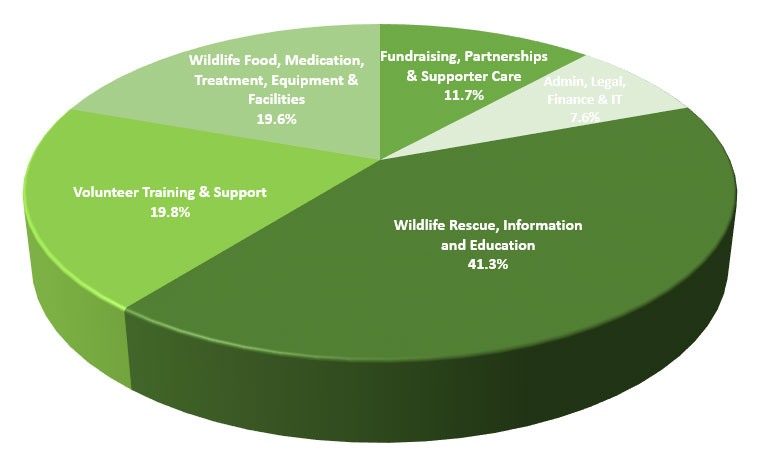 41% Wildlife Rescue, Information and Education
The majority of donations are used to provide wildlife rescue services and ongoing wildlife information and education to the community.
WIRES receive hundreds of thousands of calls that result in tens of thousands of rescue requests each year. WIRES Rescue Office operates 365 days a year, working with WIRES volunteers in 28 branches, WIRES rescue van, hundreds of incredible vets, other wildlife rescue organisations and caring community members to assist native animals in distress.
We are dedicated to the rescue, care and release of individual animals and we provide constant information and education to the community to increase their understanding and appreciation of native animals to help protect and preserve all species long term.
19.8% Volunteer Training and Support
WIRES could not help the vast number of animals we do and provide the massive amount of local community wildlife information and education that we do, without the involvement and dedication of our volunteers.
Over 2,500 volunteers are involved in WIRES work each year with approximately half actively involved in wildlife rescue at any time. In the last financial year WIRES ran over 100 wildilfe training courses for over 2,000 new and existing volunteers, with many of these being specialist species courses.
There is a lot of work involved in managing a large volunteer team which includes providing ongoing support for queries, recruiting and training new volunteers, advanced training for existing volunteers, managing volunteer WHS (work, health and safety) and providing insurance to cover all volunteers for their rescue and care activities. WIRES wildlife training is increasingly being sought by other organisations as well and we intend to expand our training services in the future.
19.6% Wildlife Food, Medication, Treatment, Equipment and Facilities
In the last financial year WIRES spent over $280,000 on wildlife food. Many vets generously provide free medication and treatment for wildlife but there are many times WIRES will also pay for special treatment for wildlife when needed.
WIRES branches normally have a central stock of equipment volunteers can use but in addition to this many volunteers also buy their own rescue and care equipment to use and many also pay for additional wildlife food themselves. On top of the additional food subsidies already in place, WIRES started an annual Food Fund a few years ago, that is dedicated to raising additional money used 100% on food for animals in care www.wildlifefoodfund.org.au.
In the last year WIRES received grant funds to support the launch of a Wombat Mange Treatment course that is now available nationally, this also funded equipment for volunteers in regions rescuing and caring for wombats. WIRES also received grant funds to supply koala rescue equipment to all WIRES volunteers working with koalas across NSW. Via grants and community partnerships we have built 3 small koala pre-release facilities in the last year and grant funds are regularly recieved by branches to support the purchasing of additional equipment and to build specific wildlife facilities.
11.7% Fundraising, Partnerships and Supporter Care
Without fundraising WIRES could not continue the rescue and care services we currently provide and we would be unable to grow to help more animals in the future. WIRES receives minimal government funding through grants and no funding is guaranteed, which is why we are reliant on the generosity of the community for over 95% of our funding.
7.6% Admin, Legal, Finance and IT
There are a lot of management requirements and costs involved in the professional running of any organisation. WIRES work hard to manage our finite resources stringently in order to deliver the best value for animals, our donors and our volunteers.
We are focused on compliance and manage all resources carefully. WIRES finances are independently audited each year. WIRES are legally responsible to the Office of Liquor, Gaming & Racing, the Australian Charities and Not for Profit Commission and the Register of Environmental Organisations.
WIRES wildlife rescue and care licence is issued by NSW NPWS (National Parks and Wildlife Service Inc.). As Australia's largest wildlife rescue organisation we are dedicated to growth to help more native animals in need and we focus on the continuous improvement of our systems and processes to increase our sustainability and effectiveness.
Make a donation

Just $20 can help us to rescue and care for more native animals
DONATE NOW