Wildlife Food Support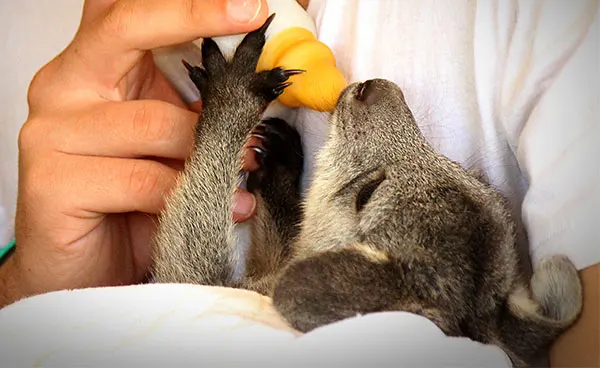 With the generous support of Woolworths, WIRES is providing wildlife volunteers nationally food subsidies. The first round of applications has now closed, please contact WIRES for information on when the next round will be made available.
For those who have applied, WIRES will be in contact soon. If you have any questions about your application, please refer to the FAQs below
Objectives of Food Support
This newly created program was made possible by donations by Woolworths stores around Australia through the Reindeer Carrots and other opportunities. WIRES is distributing funds to Wildlife groups and volunteers to access specialised wildlife food which will in turn help reduce their costs, as rescue demands increase in the warmer months.
WIRES are partnering with suppliers to ensure the best quality of food can be delivered direct to volunteers all around the country.
Funding is limited and the amount allocated to each individual or group will depend on the volume of eligible applications received and funds available per state.
Applications closed 22/11/2021
Who is Eligible?
NSW - NSW National Parks & Wildlife Service (NPWS) individual licence holder or licensed group (excluding WIRES members, as they are being supported through other funding programs)
VIC - Wildlife Shelter or Foster carer or Group authorisation through the Department of Environment, Land, Water and Planning (DELWP)
SA - Wildlife volunteers or Groups with one of the following Department for Environment and Water (DEW) permits; Wildlife volunteer, Rescuer, establish a Wildlife rehabilitation facility, keep recused animals unfit for release. If a carer is a part of a group, they cannot apply as an individual but should encourage their group to apply.
TAS - Volunteer wildlife rehabilitator registered with the Tasmanian Department of Primary Industries, Parks, Water and Environment (DPIPWE), including advanced rehabilitators.
WA - Individual Volunteer or Group. If a volunteer is a part of a group, they cannot apply as an individual but should encourage their group to apply.
QLD - Department of Environment and Science (DES) individual licence holder, licensed group or endorsed group.
ACT - ACT Wildlife
NT - Permit to keep protected wildlife from Parks and Wildlife Commission or a group with a permit. If a carer is a part of a group, they cannot apply as an individual but should encourage their group to apply.
To be eligible, Volunteers;
Must have been actively engaged in wildlife rehabilitation for a minimum of 2 years
Must prioritise animal welfare and aim to consistently provide best practice rescue and care for wildlife
Must be willing to agree to the Community Guidelines that govern participation in the program
Must have successfully acquitted any funding previously received from WIRES
FAQs
Why food?
Wildlife have many needs, but the most immediate is appropriate food and water. WIRES and Woolworths are committed to supporting wildlife in immediate need.
How are applications assessed?
WIRES will be providing support as fairly as can be, distributed across states and territories according to donations received. Carers and groups with demonstrated need for support or extreme circumstances will be given priority.
Can groups submit multiple applications?
Volunteers should consult with their groups prior to application to ensure the most effective use of resources is provided for wildlife. Geographic spread, number of carers and structure will inform how groups are supported.
Why only these suppliers?
WIRES is collaborating with authorised wildlife food suppliers to provide the most appropriate food for spring animals.
What options are there for things other than food?
Currently this program only supports Food for Wildlife. WIRES has other grant opportunities and programs throughout the year which provide a range of support including equipment and training.
When will successful applicants be notified?
Submissions closed 22 November 2021. Successful applicants will be notified within a month of applying.
If you are eligible and interested in future food support, please contact [email protected]
To find out more about our food support programs in partnership with Woolworths, go to: wires.org.au/wildlife-programs/partners/woolworths