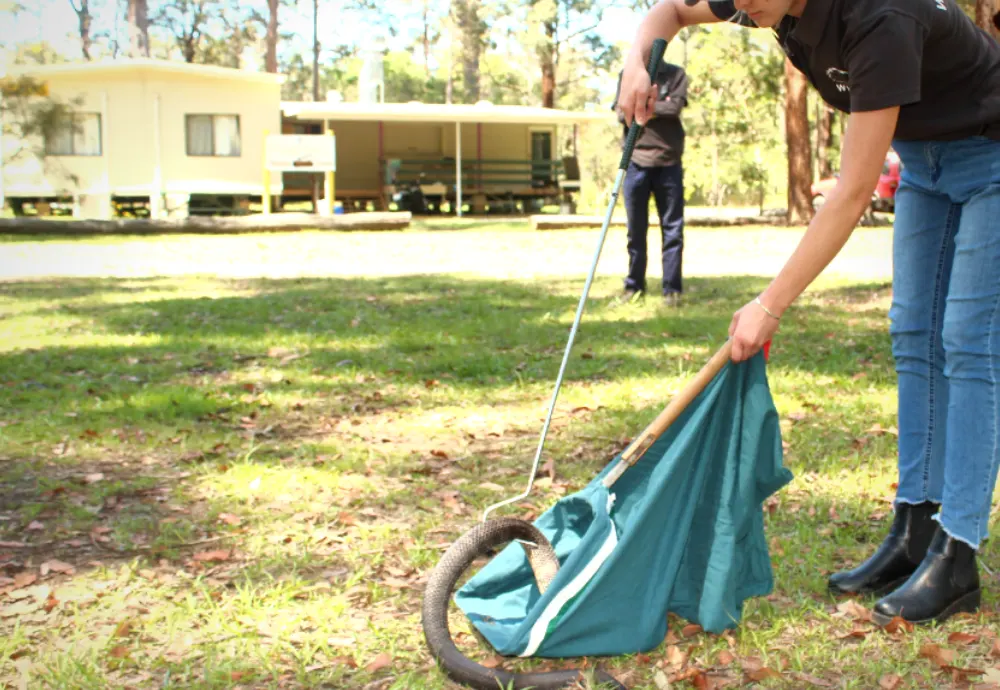 Snake-friendly Fire and Rescue
Friday, March 24, 2023
Collaboration between different agencies can often lead to innovative solutions to problems. WIRES and Fire and Rescue NSW are working together in an effort to keep snakes and South Sydney residents safe from harm. Emergency responders such as Fire + Rescue NSW have always played a vital role in protecting communities which can often include reptile retrievals.
The animal welfare sector has long been essential in rescuing animals from dangerous situations, including natural disasters and bushfires. WIRES often works with firefighters to rescue animals such as snakes that have found themselves inside residential properties. In Sydney's Sutherland Shire, Fire and Rescue NSW crews have recently been trained by WIRES in snake handling, so that they can assist with the safe removal of snakes from people's homes and release them into nearby bushland.
Four firefighters attended a recent WIRES snake training course to enhance their capabilities in assisting with snake reports in the Sutherland Shire area. The station already had team members able to respond to these situations, but additional training means more team members are trained in how to contain and release snakes. The Sutherland Shire Fire and Rescue Team provide a valuable service to the community through these activities and the WIRES Training Team were pleased to have these Fire and Rescue NSW team members take part in the course.
Fire and Rescue NSW Sutherland Shire work alongside WIRES and other agencies to contribute to the safe relocation of snakes found in homes. This benefits both the community and individual animals and assists in preventing unnecessary, unsafe interactions or harm to wildlife.
WIRES snake handling training includes snake bite first aid, snake identification, safe handling techniques for both venomous and non-venomous snakes, how to capture, contain and transport snakes and how to safely release snakes.
Snakes are an important part of the ecosystem, and their presence should be respected and protected. By working together, WIRES and Fire and Rescue NSW can raise awareness about the importance of protecting wildlife and conserving their habitats.
"It's encouraging to see firefighters who are passionate about animal rescue and that they see it as an important part of their job," says WIRES Head of Training & Development Jenn Rhodes. "Snakes are often misunderstood, so having more people on the ground who care about their welfare is a huge help to WIRES and to members of the community."
This is a positive step towards a more integrated approach to animal welfare and emergency response. It demonstrates the potential for different agencies to work together to achieve common goals and highlights the importance of protecting wildlife and conserving habitats.