2021 NGP Recipients
WIRES committed $5 million dollars to a five-year National Grants Program to be rolled out from 2021-2025. The WIRES National Grants Program (WIRES NGP) is designed to support best practice rescue and rehabilitation of wildlife, an increase in emergency preparedness in the sector, and native species recovery projects to improve long-term outcomes for wildlife in Australia. For more information and application details, view the WIRES National Grants Program overview.
As part of the grants program we have awarded two special named grants in honour of Mikla Lewis and Pat Connors, two incredible individuals critical to WIRES inception and development. These grants are The Mikla Lewis OAM Habitat Restoration & Enhancement Grant, and the Pat Connors Avian Grant.
In 2021, there were 67 successful projects, with every state and territory across Australia represented.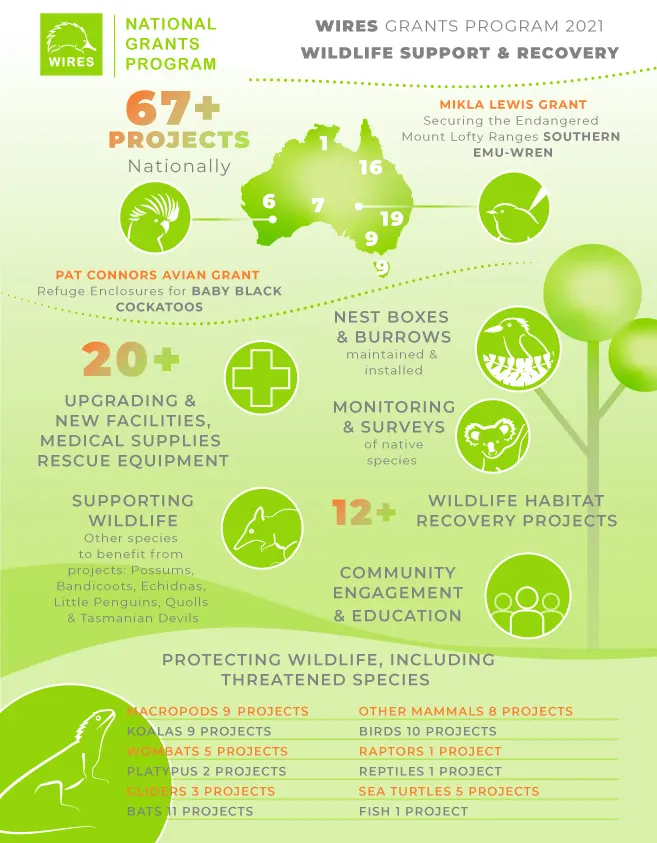 2021 - Successful Grant Recipients and Projects
ACT
Tier 2 - ACT Wildlife Inc - Rescue equipment and consolidation
NSW
Tier 1 - Numeralla Wildlife Shelter - Joey Shelter
Tier 2 - Koala Conservation Australia Ltd. - Port Macquarie Koala Hospital Enclosure Enhancement and Plant Nursery
Tier 2 - Wildcare Queanbeyan Inc. - Wombat Rehabilitation Recruitment (Spreading the love of wombat care)
Tier 2 - Wildlife ARC Society Inc. - Increasing emergency preparedness and community awareness
Tier 2 - Wildlife In Need of Care (WINC) - Season Preparation
Tier 2 - LAOKO Snowy Mountains Wildlife Rescue - Australian Bat Lyssavirus (ABLV) Vaccination for LAOKO Rescuers
Tier 2 - Hunter Wildlife Rescue - Emergency Management
Tier 3 - Northern Slopes Landcare Association in partnership with North West Regional Koala Arks - Warialda Koala Education & Native Habitat Restoration program
Tier 3 - Fix It Sisters Shed - Habitat production (burrows)
Tier 3 - Friends of the Koala - Community Engagement Initiative
Tier 3 - Clarence Landcare - Snap and Trap for Wildlife Protection and Community Engagement
Tier 4 - Film Projects - The Koala Corridor
Tier 4 - Wilsons Creek Huonbrook Landcare Inc - Top of the Range Glossy Black Cockatoo Nest Hollow Project Phase 2: Monitoring and Management
Tier 4 - WildBnB Wildlife Habitat - Saving the Acrobats of the Forest
Tier 4 - Murdoch University/Taronga Zoo - Investigating the Health and Disease of Platypuses in NSW
Tier 4 - Charles Sturt University - Pre-Release Health & Post-Release Fate of Rehabilitated Wildlife
Tier 4 - Griffith University - Leave It School - an online dog training program to reduce wildlife attacks
Tier 4 - Western Sydney University - The Hawkesbury-Nepean Platypus Project
NT
Tier 3 - Karrkad Kanjdji Trust - Wardekkan Mayh (Species) Recovery Project
QLD
Tier 1 - Bundy Wildlife Rescue Inc. - Wildlife Intensive Care Units
Tier 1 - TigerLodge WildCare
Tier 1 - Wallabies RNR, wildlife rescue and release
Tier 1 - Lana Field
Tier 2 - The Agile Project - Wildlife Rescue - Medications, feeding equipment, formula + microscope for fecal float testing
Tier 2 - Wildcare Wildlife Inc - Mobile Release Aviaries
Tier 2 - Bat Conservation and Rescue QLD - Increasing Emergency Response Capacity for Large-Scale Flying Fox Events
Tier 2 - Bat Rescue Inc. - Equipment
Tier 2 - Queensland Koala Society Inc. - QLD Koala Society Rescue Equipment
Tier 3 - Rainforest Rescue - 'Repairing The World Heritage Daintree Rainforest's Wildlife Habitats' Project
Tier 3 - Bats and Trees Society of Cairns Inc. - Save our spectacled flying-fox. Community education program and Enhancing care capacity to assist recovery of the species
Tier 3 - Bush Heritage Australia - Saving Australia's smallest freshwater fish: Developing a more strategic approach to excluding invasive Gambusia fish from Red-finned Blue eye habitat.
Tier 3 - Australian Animals Care and Education Inc. - Turtle Rehabilitation
Tier 4 - Gympie and District Landcare Inc - Imbil Rail Trail Revegetation
Tier 4 - Watergum Community - Fire-Effected Glider Habitat and Rescue Enhancement Project
Tier 4 - University of QLD - Habitat restoration methods to conserve hollow-dependent threatened mammals and birds
SA
Tier 1 - Adelaide Hills Kangaroo Rescue - Thermal Imagery
Tier 1 - Flying Fox Heat Stress Kit
Tier 2 - Kangaroo Pouch Animal Orphanage - Kangaroo Enclosure Extension
Tier 2 - Adelaide and Hills Koala Rescue 1300KOALAZ - Koala Rescue & Rehabilitation Program
Tier 3 - (Mikla Lewis Grant) - Nature Foundation - Helping secure the endangered Mount Lofty Ranges Southern Emu-wren
Tier 3 - Foundation for Australia's Most Endangered Species Ltd - Reintroducing the Western Quoll & Red-tailed Phascogale back into the wild
Tier 4 - Kangaroo Island Land for Wildlife Inc - KI Land for Wildlife Conservation Education Program
TAS
Tier 1 - Cradle Mountain Wildlife Rehabilitation
Tier 1 - Magra Haven
Tier 1 - Native Corners Project
Tier 1 - Wallaby enclosure 600m2
Tier 1 - Hughenden Wildcare - M*A*S*H Ancillary Enclosure and treatment facility
Tier 2 - Inala Foundation Inc. Bruny Island Wildlife Care
Tier 2 - Tasmanian Wildlife Rehabilitation Council Inc. - Getting Existing Bat Flight Recovery Aviary Operational
Tier 2 - Yolly's Wildlife Rescue - Demountable soft release enclosures
Tier 4 - Devils@Cradle - Cradle Mountain off-Display rescue & rehabilitation facility - supporting species recovery programs for threatened carnivorous marsupials
VIC
Tier 1 - Koalas of Raymond Island Inc.
Tier 1 - Venomous snake rescue/rehabilitation
Tier 1 - Reptile Rehab
Tier 1 - Rescue Equipment
Tier 2 - St Andrews Wildlife Shelter - Feeding Ringtails in care at St Andrews Wildlife Shelter
Tier 3 - Red Box Wildlife Shelter - Project Preparedness medical facilities
Tier 3 - Connecting Country Inc - Who's in that nest box? Empowering volunteers to monitor threatened phascogales
Tier 3 - Murrindindi Ranges Wildlife Shelter - Adult Wombat Rehabilitation Facility
Tier 4 - Phillip Island Nature Parks - Safe-Guarding Short-tailed Shearwaters
WA
Tier 1 - Healing Hands Wildlife Care Inc. - Water tank for joeys in care
Tier 2 - Western Australian Seabird Rescue - Increasing Seabird Rehabilitation Capacity in WA
Tier 2 - Amaris Wildlife Sanctuary - Building a Wildlife Sanctuary
Tier 2 - Bluebush Wildlife Rescue and Rehabilitation Inc. - Kangaroo Shelter
Tier 2 - Goldfields Native Animal Care - Hopbush Pre-release Pen
Tier 3 - (Pat Connors Grant) - Native Animal Rescue - Refuge Enclosures for Baby Black Cockatoos
WIRES is proud to be able to support these fantastic groups and projects, and we look forward to sharing the project updates and outcomes as they take place.