Making a possum box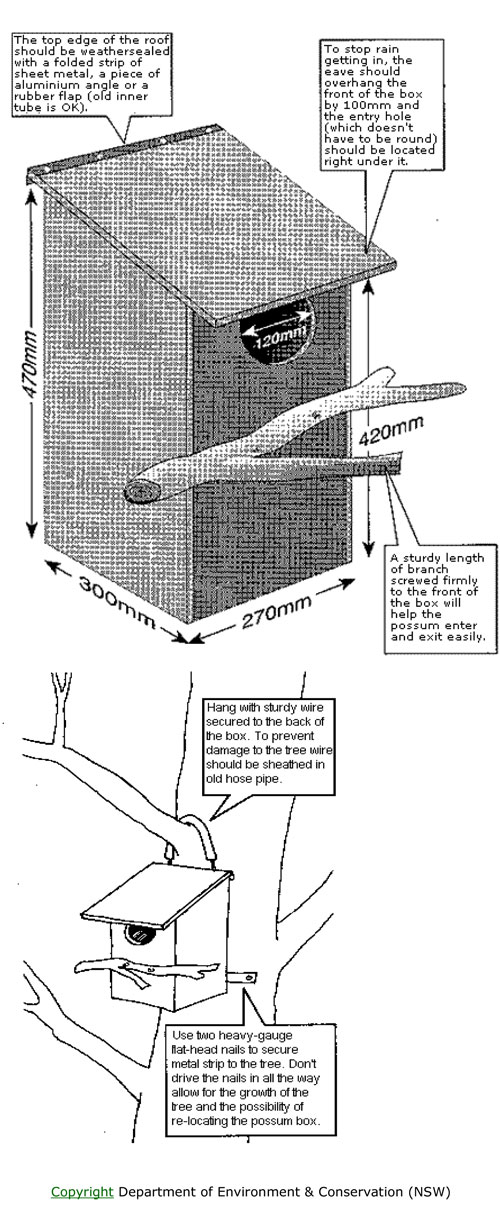 Removing a possum from your roof
Steps to successfully and safely remove a possum from your roof;
Provide an alternative home for the possum by constructing a sturdy weatherproof possum –house
Where possible, get inside your roof and locate the nest. The nest, which has the scent of the possum, should be placed in the new possum house.
Securely fix the possum house to a tree in or near your yard. Place it at least 4 metres from the ground so the possum will be out of reach of domestic cats and dogs.
To encourage the possum to investigate its new home, put half an apple or banana in or near the possum house.
Trim any branches that over hang the roof to remove access to your roof
Place a light in the roof cavity and keep it switched on for three days and three nights. The combination of light and smell should drive the possum out of your roof and hopefully into the possum house you have provided.
Block off the access points to the roof with timber, chicken wire or both to prevent a possum returning.
If this does not deter the possum, you may need to have the possum trapped.
Possum traps
Possums are protected fauna in NSW and catching possums without a license is illegal in NSW. Contact WIRES and we will refer you to a licensed possum removalist. Please see a plan provided by Department of Environment and Conservation for making your own possum box.
Guide to making a possum house
Marine ply at least 12mm in width is recommended for making possum boxes. Chipboard is not suitable as it disintegrates rapidly outdoors.
Drill four 5 - 7mm holes through the floor of the box near each corner to allow any water that might get in to drain out. Hinge the roof/lid to allow easy access.
Nesting material isn't essential but a few handfuls of dead leaves would provide comfort and insulation.
Newsletter
Stay in touch with our regular rescue stories and WIRES updates.
Make a donation

Just $20 can help us to rescue and care for more native animals
DONATE NOW