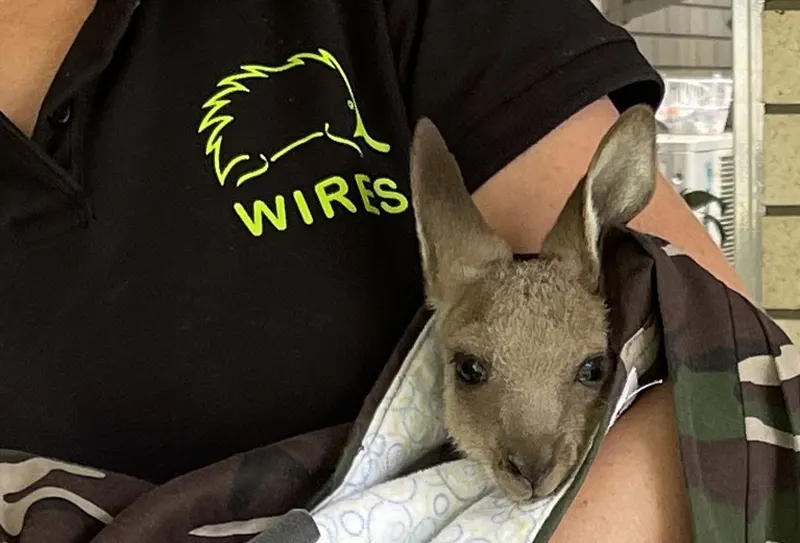 During emergency events WIRES can be inundated with enquires from people wanting to assist impacted wildlife.
Many calls and emails are from people wanting to assist with wildlife in a direct way. While these offers are appreciated, wildlife rescue and care is complex and we are unable to allow untrained volunteers to care for wildlife. It is necessary for WIRES rescuers and carers to be trained and licensed.
If you are in or near areas impacted by floods or severe storm events, you can assist wildlife as outlined below:
Helping wildlife during flood and storm emergencies
Take domestic animals with you if you evacuate or keep cats indoors and dogs under control wherever possible so that wildlife can flee safely through your yard if needed.
Keep a cardboard box, gloves, mask, a cotton pillowcase and a few towel in the boot of your car in case you find an injured animal that you can safely contain without putting yourself in any danger.
If you rescue an animal, do not attempt to feed it and do not offer water unless instructed to by a trained wildlife carer or vet.
Please wrap rescued animals loosely, ideally in 100% cotton fabric or a cotton pillowcase, place it in a ventilated box with a lid and keep it in a dark, quiet place whilst waiting for a rescuer or for transport to the nearest vet.
Handling of wild animals should only occur in the course of containing the animal to reduce additional stress caused by proximity to humans. Please keep rescued wildlife well away from all domestic pets and children.
If you can safely take injured animals to your nearest vet please do so, as injured animals will require urgent vet assessment. If you can please also call WIRES to let us know which vet you've taken the animal to so we can follow up with vet to bring the animals into care when they are ready.
Do not approach any snakes, flying-foxes, large kangaroos, raptors or monitors as these must be rescued by trained specialists, for these species please call WIRES for rescue assistance on 1300 094 737.
It is imperative not to risk your life. Do not drive through or enter floodwaters.
We welcome new volunteers and if you are interested in becoming a volunteer with WIRES we encourage you to attend a Rescue and Immediate Care Course so that you can join a local branch and assist with ongoing wildlife rescue and care in the future.
WIRES is a registered charity and we rely on the generosity of the public to continue our rescue and care services. Gifts $2 and over are tax- deductible and you can donate online at any time, making a single donation or monthly donation to become one of our Virtual Carers. Every gift makes a significant difference and we are extremely grateful for the community's ongoing support of our work with wildlife.
To access 24/7 rescue advice and assistance for sick, injured and orphaned native animals call 1300 094 737, or fill in the online rescue form.
Sign Up for Wildlife News
Stay in touch and get our regular rescue stories, WIRES updates and a free copy of our 15 Ways to Help Wildlife ebook