WIRES Sydney Cumberland
Rescue
For all wildlife rescue please call 1300 094 737 or use our Report a rescue form
For all general enquiries please complete an enquiry form.
Branch Description
Cumberland Branch encompasses a very large area covering parts of the Camden, Canterbury-Bankstown, Cumberland, Fairfield, Liverpool, Parramatta, Penrith, Sutherland Shire and Wollondilly local government areas.
WIRES Cumberland Branch services a very large area extending from Silverdale on our western edges to Rookwood in the east, north to Erskine Park and south to Sandy Point. Continuing suburban development puts pressure on wildlife in our area as their habitat reduces. We cover a very multicultural area of Sydney and perhaps a surprisingly broad range of native wildlife including koalas, kangaroos, bats, reptiles, birds and possums.
Local Supporters
We work closely with many of the vets in the local area and appreciate the assistance given by these professionals and businesses, often without charge. Without their time and effort, we would not be able to save as many animals as we do.
Get Involved
We need more volunteers to assist with wildlife rescue and rehabilitation. If you are interested in joining us, please read our branchrmation about becoming a volunteer.
Local Stories
Wallaroo joey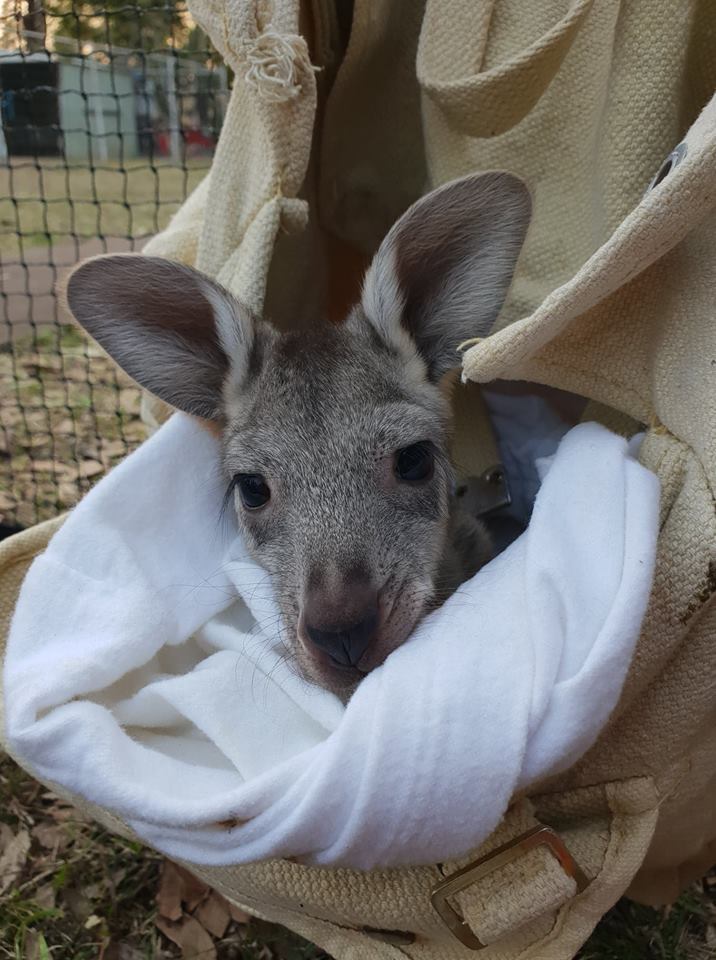 This Wallaroo joey was recently rescued after her mother had been killed in a vehicle collision. The member of public contacted WIRES who organised for one of our volunteers to collect the joey.
Initial assessment found what appeared to be a tail injury. She was taken to the Avian Reptile and Exotic Pet Hospital for assessment where it was discovered that her tail injury was a growth malformation and not a fracture as we had feared.
It was determined that without correction the malformation may impact her survival in the wild.
Associate Professor Lorenzo Crosta as well as the rest of the amazing team at the Avian Reptile and Exotic Pet Hospital performed surgery to straighten this little girls' tail.
Due to their amazing efforts she is currently in care with one of our macropod carers where she is expected to make a full recovery and will be released back into the wild when she is old enough.