WIRES Central West
Rescue
For all wildlife rescue please call 1300 094 737 or use our Report a rescue form
For all general enquiries please complete an enquiry form.
Branch Description
WIRES Central West branch covers an area that includes Lithgow, Mudgee, Molong, Orange, Lyndhurst, Blayney, Bathurst and Oberon and all areas in between.
Local Supporters
We are a small, close knit branch which rescues and cares for up to 1,000 rescues each year. The main animals we rescue include kangaroos and wallabies, wombats, birds - magpies, kookaburras and a variety of parrots, owls and raptors and water birds, possums and gliders and the occasional koala. We also fundraise and provide educational resources and talks to the local community regarding native wildlife.
Our local Bunnings provide materials and host community events such as a possum box building days

Bunnings - Bathurst
Get Involved
We need more volunteers to assist with wildlife rescue and rehabilitation. If you are interested in joining us, please read our branchrmation about becoming a volunteer.
Local Stories
Little Lady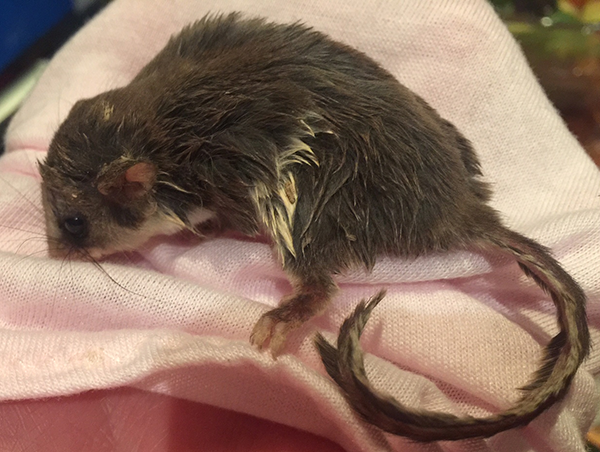 As you can see this little lady was very sad looking when she was rescued in Bathurst just before the snow started falling during the very cold weather experienced across the Central West in July. WIRES volunteer, Christie says she was not sure she would make it through the night.
She was found on the path near a house, and it is thought a dog or cat may have brought her in. They thought she was a baby sugar glider, but when Christie arrived on the scene she could see from the tail it was a Feathertail Glider.
Feathertail after a day or two in careShe was kept warm, dark and quiet overnight, and she was much brighter the next day. She is on the tiniest dose of antibiotics you can give, and she is now also on ointment for that squinty eye, which is thankfully looking better each day.
Christie says "she loves her special porridge and is eating up big. She's very gentle, a truly a beautiful little creature and I feel honoured to be able to learn from her while in care."
Fingers crossed she continues to make improvements and we can get her back out with her colony.