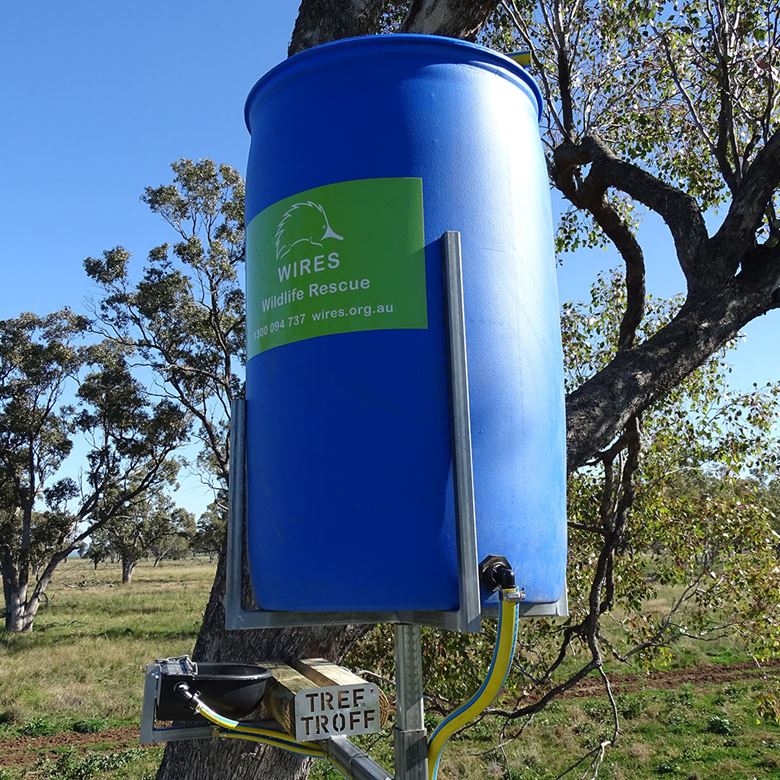 WIRES Water for Wildlife Project
Saturday, August 29, 2020
WIRES Water for Wildlife collaboration will build and distribute $1 million worth of arboreal water stations for native wildlife.
The project is a direct result of research by the University of Sydney that found koalas used supplemented water extensively throughout the year. This is particularly frequent when extreme weather events dramatically reduce leaf water content, potentially leading to large-scale mortality due to dehydration.
According to Dr Valentina Mella, Post-Doctoral Research Associate – Animal Behaviour and Conservation, The University of Sydney, "Our results suggest that future changes in rainfall regimes and temperature in Australia have the potential to critically affect koala populations.
The more days without rain, the more time koalas spent drinking. During hot weather, visits to water stations were also more frequent, indicating that koalas needed regular access to water."
The arboreal drinkers were also visited by other native animals including sugar gliders, squirrel gliders, feathertail gliders, brushtail possums, tree frogs, geckos, goannas, pythons and a variety of birds including eastern rosellas, musk lorikeets, noisy miners, galahs, cockatoos, butcher birds, kites, owls, apostlebirds and magpies.
The research lead to the development of the highly effective TREE TROFF® arboreal drinker which is designed by Wildsip Pty Ltd.
There are 800 x 220L drinkers currently in production and they will be distributed to fire and drought affected areas. The aim is to have all drinkers installed before summer 2020/21 to ensure wildlife will have access to water during the hottest months of the year.
WWF-Australia is proudly supporting the project to assist koalas and other arboreal species and The Reece Group has also partnered with WIRES to support native wildlife, donating many key components which has enabled hundreds of additional drinkers to be built.
"It is rewarding to see this collaboration of sectors providing a simple solution to a major issue facing so many native animals. Access to water will continue to be a significant problem as the effects of climate change are felt across the country and WIRES is delighted to be able to lead this project," said WIRES CEO Leanne Taylor.
WIRES will be working closely with the University to Sydney to coordinate the distribution and installation of the drinkers. Private and public landowners can apply for the drinkers which will be provided free of charge to the most impacted areas.
Recipients will be required to install and maintain the drinkers on an ongoing basis to benefit local wildlife, particularly threatened species. Well maintained the drinkers are designed to last up to 20 years and they can be relocated over time to areas of higher need if required.
More details about how to apply, install and maintain the drinkers will be available soon. Registrations of interest can be submitted now via WIRES website: https://www.wires.org.au/water-for-wildlife