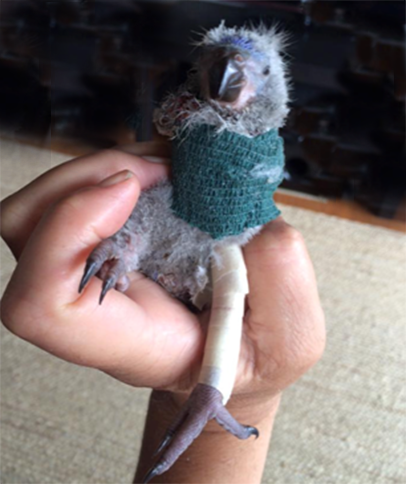 Tiny Rocky
Friday, January 1, 2021
Tiny Rocky came into care grey, fluffy and weak, with a broken wing tip, and badly broken leg!
He was x-rayed, strapped and prescribed pain killer for a couple of days. Due to his tender age and the extent of injuriesy, the prognosis was not great but he looked like a little fighter (hence the name).
Rocky needed to keep weight off the broken leg, so we made a special harness for him.
After 10 days his wing healed nicely and the strapping could come off just in time for him to start getting tiny pin feathers and start stretching and flapping (high pitched screeching was always high on his agenda)
After another 10 days, an x-ray showed his leg was healing but still not strong enough to support him, so he had to be strapped again.
After another week, the strapping was able to be removed and movement in his leg and foot was back to normal.
Rocky was buddied up with another lorikeet in care around the same age. After some time in an aviary to build up strength he was successfully released back to the wild.