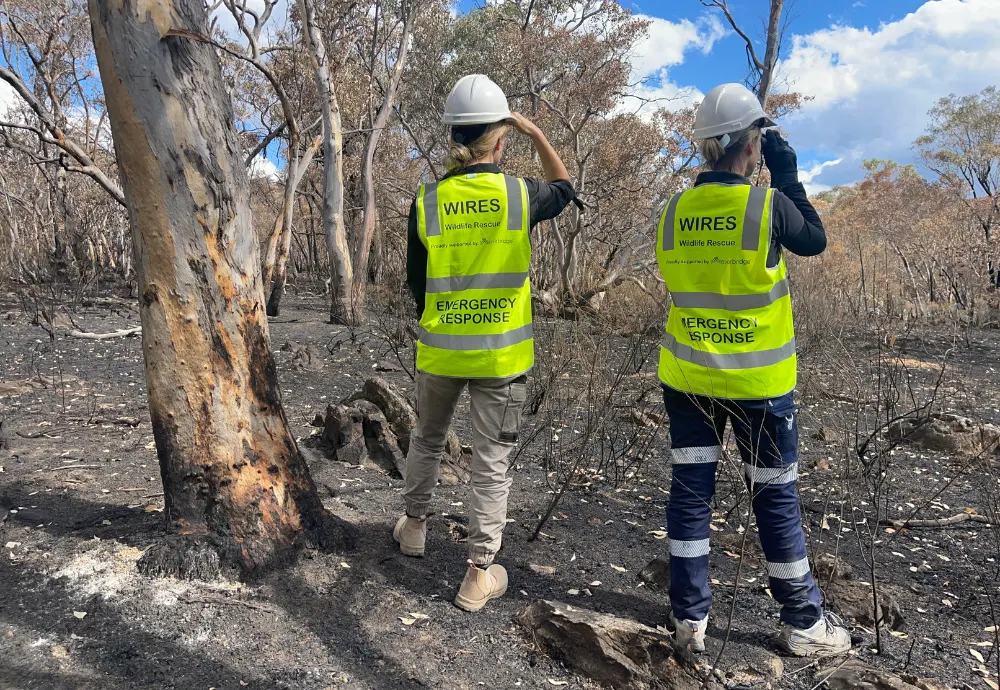 Tambaroora fire wildlife search and rescue
Thursday, March 30, 2023
WIRES Emergency Response Team (ERT) has been working tirelessly to provide on-ground assistance to wildlife impacted by the Tambaroora bushfire, which has left a trail of destruction over 18,000 hectares in NSW's Central West. The team has been working closely with the NSW Rural Fire Service (RFS) to undertake a wildlife search and rescue operation in the fire-affected area of Tambaroora, south of Mudgee.
Due to the severity of the fire, WIRES ERT encountered numerous wallabies that had perished in the bushfire. However, they were heartened to find many reptiles and kangaroos that had survived the devastation. The team waited until the fire was extinguished before they were granted access inside the fire ground to search for wildlife.
WIRES Emergency Responders undertake Emergency Response training to prepare for emergency search and rescue, and work carefully under the direction of the RFS following all safety procedures. During the search, the team did several pouch checks of healthy Eastern Grey Kangaroos that had been disorientated and struck by cars trying to escape the fires.
Bushfires have a significant impact on wildlife populations, and the survival rate is regrettably low for many species in extreme fire events. The Tambaroora bushfire has been particularly devastating for the local wildlife, with many animals losing their lives or homes.
WIRES Emergency Response Team are continuing to monitor and provide support to wildlife in this impacted area and continue to work closely with the RFS and organisations on the ground. Although the region witnessed some devastating wildlife losses, the team was thankful to locate and provide support to animals that had survived the fire event.
WIRES has been rescuing and caring for sick, injured and orphaned native animals for over 35 years. Today it is Australia's largest wildlife organisation, though our mission remains the same - to actively rehabilitate and preserve Australian wildlife and inspire others to do the same. We rely on the generosity of the community to carry out our wildlife rescue and rehabilitation. If you would like to support WIRES' work, you can make a tax-deductible gift or become a wildlife rescuer.