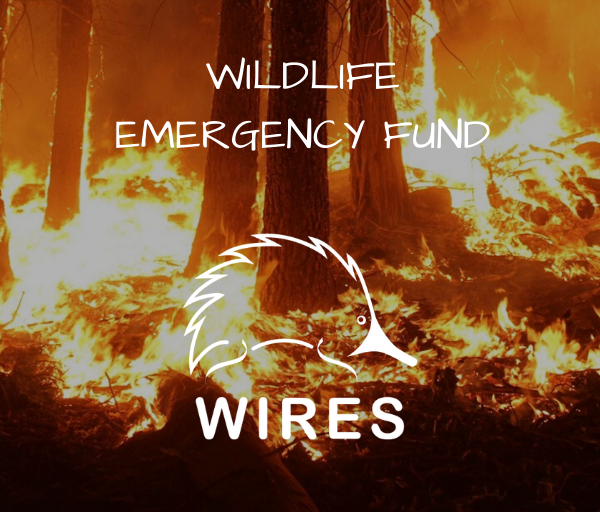 NSW Fire Catastrophe
Monday, November 11, 2019
NSW Premier Gladys Berejiklian has declared a state of emergency due to the catastrophic fire conditions.
The state is facing unprecendented fire conditions, hundreds of homes, and lives, have already been lost and there are fears that tomorrow things will get worse. The NSW Rural Fire Service (RFS) has extended its 'catastrophic' warning and it is the first time the Sydney region, has faced a catastrophic warning in the 10-year history of fire danger ratings. ABC News
There are currently over 60 fires burning in NSW. Over 850,000 hectares of land have already been destroyed and it is impossible to estimate the massive number of native animals killed.
Fires present a significant risk to the safety of volunteers and community members and the activities conducted during and after a fire event must follow the directives of the first responder organisations such as RFS, Fire & Rescue NSW and SES. WIRES must wait until the fire grounds have been declared safe to actively search for wildlife. Many animals that survive may end up in care due to lack of habitat and extreme food shortages.
For members of the community wanting to assist wildlife at this time:
1) If you find wildlife impacted by fires in NSW, please contact WIRES Rescue Line on 1300 094 737.
If it is safe to do so take any injured animals immediately to the nearest vet. Injured animals need vet treatment urgently, to increase their chances of recovery and survival. If you let WIRES know which vet you've taken the animal to, we will follow up with the vet to bring the animals into care after they have been assessed and received any treatment required.
2) For more information about assisting native animals read WIRES Bushfire Factsheet.
3) To help rescue wildlife please donate to WIRES Emergency Fund - all gifts $2 and over are tax-deductible.
In addition to fire and drought related rescues WIRES' volunteers are responding to hundreds of other requests for rescue help for hundreds of sick, injured and orphaned native animals every day.
Only licenced wildlife carers can rehabilitate native animals and WIRES always needs more volunteers. If you are interested in joining WIRES to help rescue and care for native animals, you can sign up after reading the information about becoming a volunteer.
If you live in or are travelling through an area affected by a fire please make your personal safety a priority. Bush and grass fires often cross roads and highways, smoke can reduce visibility and roads may also be closed without warning.
Please make sure you have all the information you will need to keep safe.
Check:
#fires #nswfires #bushfires