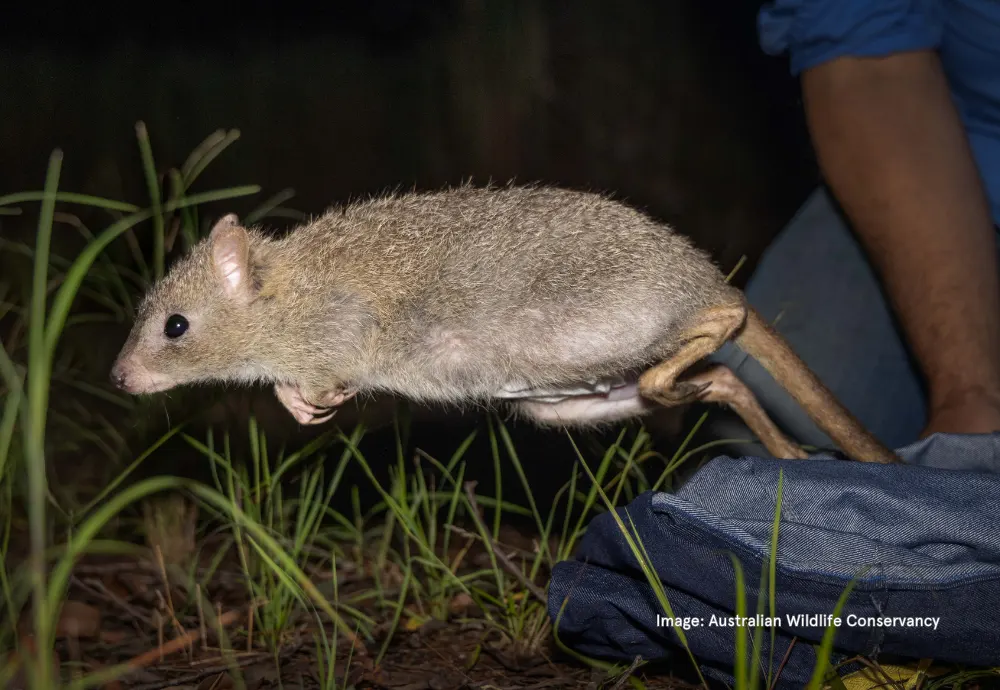 Landmark Conservation Project Ensures The Future of The Northern Bettong
Monday, May 29, 2023
We are thrilled to share an exciting update from WIRES partner Australian Wildlife Conservancy, showcasing our collective commitment to preserving Australia's unique wildlife. In collaboration with the Australian Wildlife Conservancy (AWC), we are proud to celebrate the creation of a 950-hectare feral predator-free area to establish of a new population of the endangered Northern Bettong. This ambitious conservation project takes place at the Mount Zero- Taravale Wildlife Sanctuary in northeast Queensland, requiring three years of planning to ensure it could withstand the environmental stresses of tropical Australia. With the translocation process underway and safe haven established, WIRES is delighted to see this vital initiative come to life.
See ABC News' feature and video on the new Northern Bettong safe haven
The Northern Bettong, listed as endangered under federal and state legislation, faces a significant risk of extinction within the next 20 years. As one of the 20 Australian mammals most vulnerable to threats, urgent action is needed to safeguard its future. These remarkable creatures, known as specialist fungivores, play a crucial role in maintaining the health of their forest habitat by consuming and dispersing truffles.
Currently, only two populations of the Northern Bettong remain in the wild, a dramatic decline from four populations two decades ago. Recognising the urgency of the situation, AWC has constructed northern Australia's first large, feral predator-free safe haven. This 950-hectare area has undergone meticulous planning to withstand the environmental challenges of tropical Australia, including cyclones and feral predators like cats.
The project was made possible thanks to funds from Commonwealth and state governments, WIRES, the Oak Foundation, and AWC supporters.
This landmark conservation project has fostered a close working relationship between Indigenous interests and various stakeholders, collaborating with Traditional Owner groups such as the Gugu Badhun Aboriginal Corporation, the Girringun Aboriginal Corporation, the Wadjanbarra Tableland Yidinji Aboriginal Corporation, the Buluwai Indigenous Corporation, and the Djabugay Aboriginal Corporation. Their invaluable contributions, alongside the efforts of the Northern Bettong Recovery Team, have played a vital role in securing the future of the Northern Bettong.
"The catastrophic bushfires [in 2020/2021] were devastating for Australia's wildlife and so we are thrilled to witness this essential conservation project come to fruition," shares WIRES Chief Executive, Leanne Taylor.
"We are proud to partner with AWC and support major projects aimed at restoring native wildlife populations that have been driven to the brink of extinction."
At WIRES, we firmly believe that the protection of endangered species requires collective efforts and strong partnerships. The Northern Bettong conservation project at Mount Zero–Taravale Wildlife Sanctuary stands as a testament to what can be achieved when we work together.
WIRES extends its congratulations to AWC and gratitude to all funding partners, including the Australian Government, Queensland's Department of Environment and Science, the Oak Foundation and AWC supporters. This initiative safeguards the Northern Bettong and strengthens AWC's reputation as a global leader in conservation and threatened species reintroductions. Let us continue to inspire understanding, affection, and action to ensure a future where our precious wildlife thrives.
About the endangered Northern Bettong
Learn more about WIRES and Australian Wildlife Conservancy key projects
__________________________________________________________________________________
WIRES has been rescuing and caring for sick, injured and orphaned native animals for over 35 years. Today it is Australia's largest wildlife organisation, though our mission remains the same - to actively rehabilitate and preserve Australian wildlife and inspire others to do the same. We rely on the generosity of the community to carry out our wildlife rescue and rehabilitation. If you would like to support WIRES' work, you can make a tax-deductible gift or become a wildlife rescuer.