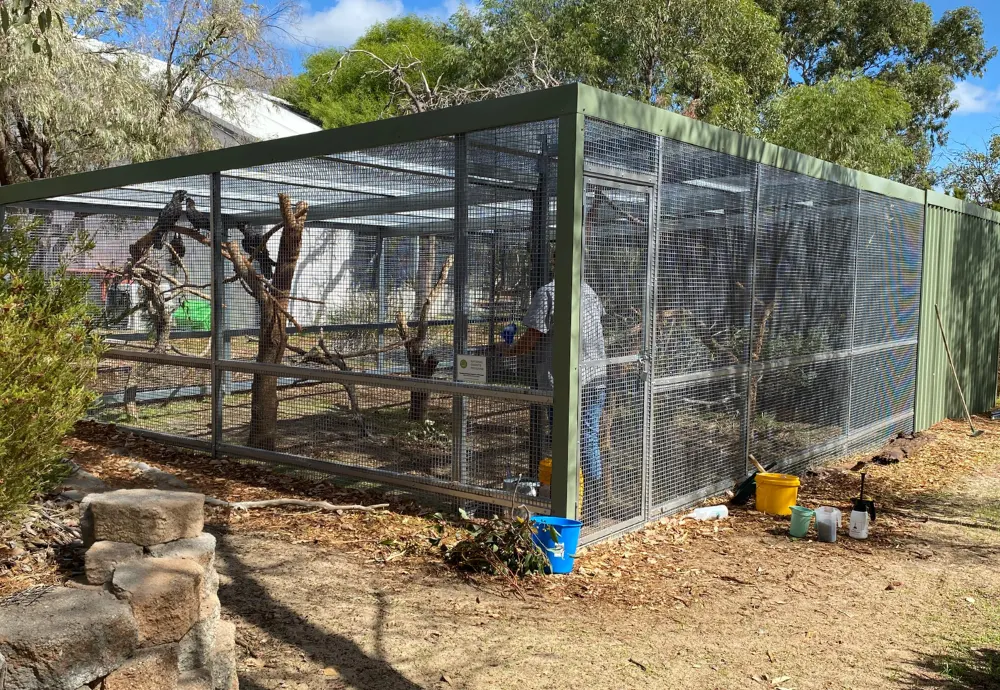 Helping Endangered Cockatoos: WIRES Grant Success Story
Wednesday, May 31, 2023
In 2021, Native Animal Rescue, located in Malaga, WA, was awarded $20,000 via the Pat Connors Avian grant under the WIRES National Grants Program. The grant supported the construction of a refuge enclosure for juvenile black cockatoos, threatened species. Now, with final reports submitted, we can see the remarkable outcomes achieved through this project.
The major achievement of this grant was the successful establishment of an enclosure specifically designed to support rehabilitation and care of young black cockatoos. The low roof makes it easier to catch them for regular feeding or treatments, while still providing a safe outdoor space to grow, receive vitamin D from the sun and important socializations. This enclosure also allows Native Animal Rescue to closely monitor and observe the interactions between older black cockatoos and the young ones that required adult guidance and teaching. It now provides valuable insights into the relationships and behaviours of these species, particularly instances of adult black cockatoos adopting orphaned young ones.
Since the completion of the enclosure, Native Animal Rescue has had the joy of witnessing the first young black cockatoo successfully raised inside. An older male black cockatoo inside the aviary took on the role of teaching the young one essential feeding skills and vocal communication, becoming a surrogate parent figure.
The young cockatoo needed crop feeding twice a day and had been placed in the enclosure with the hope that it would learn by observing older cockatoos. To their delight, caretakers observed the male cockatoo passing banksia to the young one, teaching it how to extract the seeds. The male cockatoo even took on the responsibility of feeding the orphaned cockatoo in a remarkable display of parenthood. The enclosure allowed for these observations and provided valuable insights into the family dynamics and bond among black cockatoos.
The enclosure now enables Native Animal Rescue to take in higher numbers of black cockatoos in need of care and rehabilitation. With this new facility, they can also accommodate mass influxes of birds requiring care during unexpected incidents such as mass toxic ingestion events. The enclosure has also allowed for the successful mentoring of crop-fed young birds by older cockatoos, enabling them to learn essential skills more quickly and facilitating a smoother transition to independent feeding.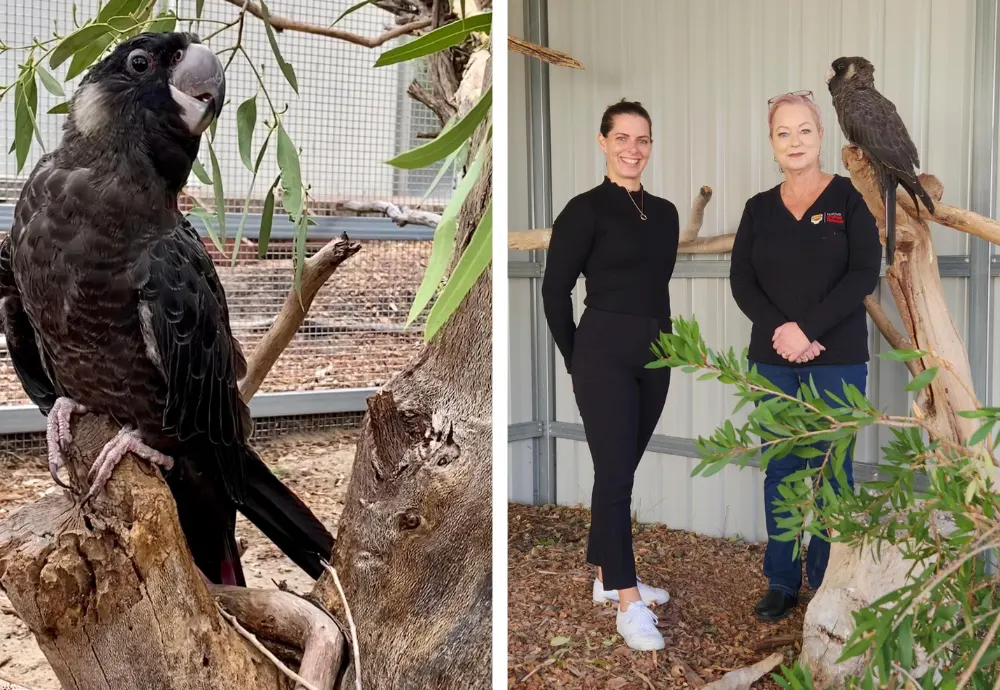 (L) Black cockatoo (R) WIRES Head of Programs Jennie Murray and Kelli Ellemor, Native Animal Rescue CEO in the enclosure
Native Animal Rescue's project has exceeded expectations, providing invaluable insights into the functioning of cockatoo family units and the strong bonds they form.
Projects like this enable WIRES to contribute to national conservation efforts and contribute significantly to our understanding of these threatened species.
If you're passionate about wildlife conservation and want to make a difference, mark your calendars! The WIRES National Grants Program is opening for applications again in July 2023.