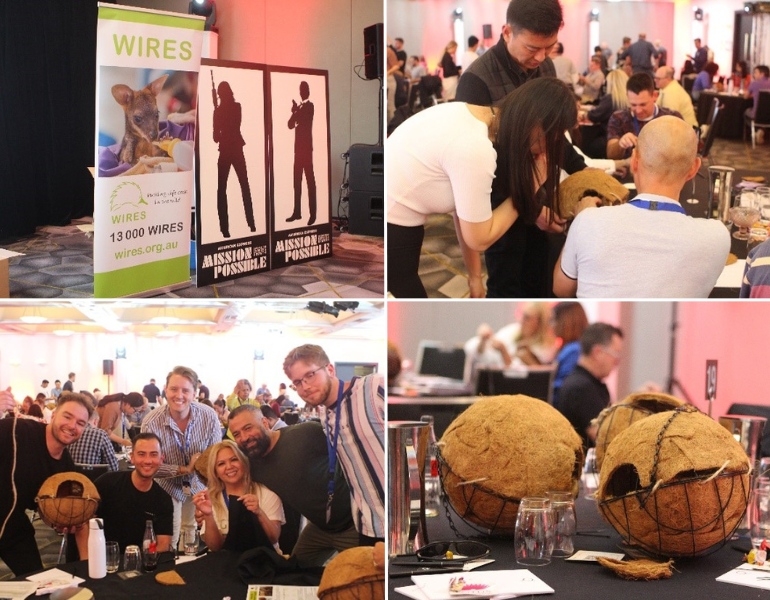 Corporate volunteering with WIRES
Sunday, February 19, 2023
WIRES is now working with Pinnacle Team Events to offer WIRES Wildlife Workshops - a sustainable corporate volunteering event where groups work together in a working bee style to help sick, orphaned or injured native Australian animals.
Designed with Pinnacle and WIRES, the event enables teams to build connection through unique shared experience as they learn about the impact of Australia's largest wildlife rescue organisation.
Kicking off WIRES Wildlife Workshops corporate volunteering program with Pinnacle Team Events in 2022, we worked with a passionate group from American Express to build essential items for possum rescue. Approximately 170 American Express employees generously gave their time and handiwork during the corporate volunteering session, which was facilitated by Sam and the incredible team at Pinnacle Team Events.
The session provided an excellent team building opportunity as part of the company's 'Mission Possible' training event. Participants didn't know what their secret volunteering "mission" would be until WIRES appeared to address the audience about how it has never been more important to support Australian wildlife than right now. Participants were presented a video of the work done by WIRES and showed how their efforts will create impact for Australian Wildlife. The group at American Express took their mission seriously as they split into groups to construct possum drays and joey pouch liners.
There was a great atmosphere in the hall as teams worked together to make a difference with a tangible outcome for native wildlife and WIRES awarded plush toy prizes to teams who built the best dreys and joey pouch liners.
The session was a remarkable success with around 40 dreys and 50 pouch liners created for sick and orphaned possum rescues, items that were snapped up quickly by our WIRES volunteers in NSW.
WIRES Wildlife Workshops are an interactive volunteering experience where participants work together to produce:
Joey Pouches – to be used when nursing sick, injured and orphaned animals back to health;
Possum Boxes OR Dreys – new homes that are given to displaced native animals to thrive in; or
Wombat Burrow Flaps – to help alleviate the pain and suffering of wombat mange.
Your donation will help WIRES to rescue native animals, provide ongoing wildlife education and help support volunteer carers.
The cost of a WIRES Wildlife Workshop includes the event fee and a donation to WIRES.
A standard WIRES donation includes an emotive introductory video played at the start of the event plus stories and images for you to use.
A premium WIRES donation includes a representative from WIRES to speak to your team, where we share stories from the field to bring to life the impact of your volunteer contribution.
To learn how WIRES Wildlife Workshops can add value to your Environmental, Social and Governance (ESG), Corporate Social Responsibility (CSR) or Responsible Business activities, and to book a WIRES Wildlife Workshop for your team, visit our Pinnacle Team Events page.