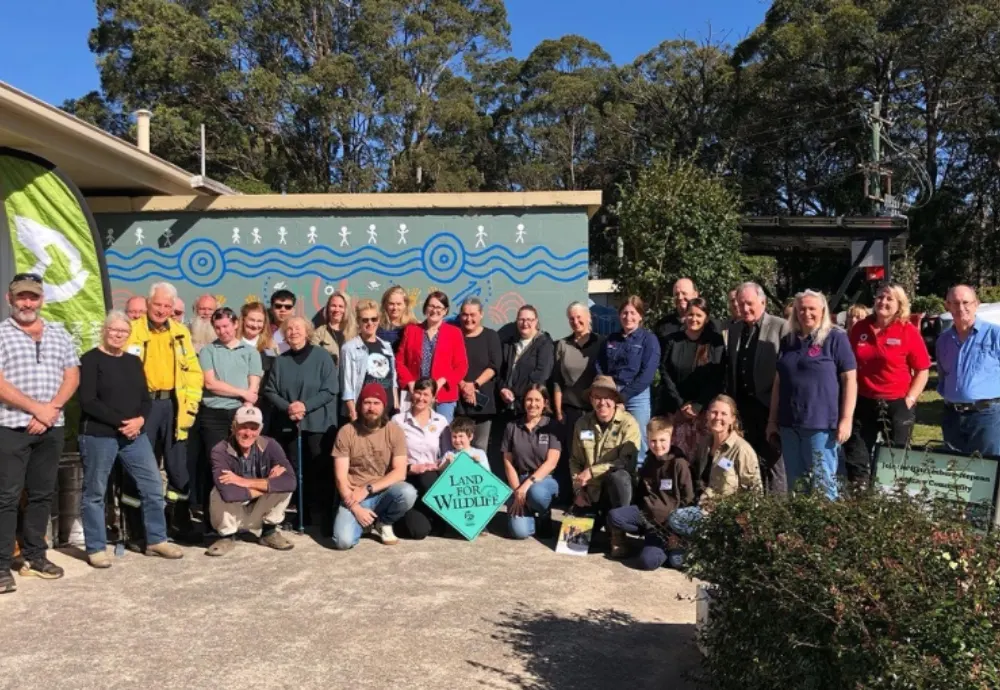 Community Support for Post-Bushfire Recovery of Wildlife in the Greater Blue Mountains
Wednesday, June 28, 2023
In May 2023, the Great Eastern Ranges (GER) and WIRES supported the local launch of the 'Glideways, Flyways and Stepping Stones' project, aimed at assisting the recovery of wildlife devastated by the 2019-2020 bushfires in southeast Australia. To celebrate the start of on-ground activities in the Blue Mountains region, a community forum and local project launch were held by the Hawkesbury-Nepean Landcare Network in the picturesque region. The event drew close to 50 enthusiastic locals and showcased the remarkable efforts being made to protect and restore wildlife habitats.
Local landholders, community members, and representatives from GER and WIRES came together to celebrate the shared vision of safeguarding wildlife and their habitats. The event served as a platform to inspire and engage individuals in taking an active role in conservation efforts with presentations by GER Chief Executive Officer Gary Howling, WIRES Chief Executive Officer Leanne Taylor, plus local Landcare groups, ecologists and wildlife carers.
"We were very keen to partner with GER on a project that was grassroots that worked with the community and landholders to improve habitat restoration and preservation," shares WIRES CEO Leanne Taylor.
"This work will help strengthen the health and value of wildlife habitat post the black summer bushfires."
Capturing the essence of the forum, this 3-minute video documents the enthusiasm and spirit of the people involved in the project in the Greater Blue Mountains region. It showcases the dedication of the Hawkesbury-Nepean Landcare Network, who lead on-ground initiatives in the Blue Mountains and highlights the important work being done by local Landcare groups to protect and restore habitats for species such as the spotted-tailed quolls, greater gliders, and masked owls.
By actively involving local communities and fostering collaboration between GER, WIRES, and regional partners, this initiative is making significant strides in rebuilding wildlife populations and protecting precious habitats. Through continued efforts and support, we can restore the natural resilience of our landscapes and ensure a thriving future for both wildlife and communities alike.
About Glideways, Flyways and Stepping Stones - Glideways, Flyways and Stepping Stones is a partnership between the Great Eastern Ranges and WIRES to assist spotted-tailed quolls, greater gliders, masked owls and other animals across southeast Australia which are still recovering from the devastating bushfires of 2019-2020. The suite of community-led projects is working to rebuild and grow wildlife populations, restore vital habitat and improve the natural resilience of our landscapes post-fire in the Middle Clarence, Blue Mountains and NSW South Coast.
About WIRES – WIRES is Australia's largest wildlife rescue organisation. WIRES has been rescuing and rehabilitating native animals 365 days a year for over 35 years. WIRES' mission is to actively rehabilitate and preserve Australian wildlife and inspire others to do the same. WIRES operates a dedicated Wildlife Rescue Office assisting the community and wildlife 24/7, and a professional Emergency Response Team operating in QLD, NSW and TAS. Annually WIRES provides rescue advice and assistance for tens of thousands of sick, injured, orphaned and displaced animals. WIRES provides significant national support for wildlife, supporting hundreds of wildlife groups and thousands of carers across Australia. WIRES also collaborates with major partners to support the long-term recovery of wildlife habitat, and the long-term preservation of native species nationally.
About the Great Eastern Ranges - The Great Eastern Ranges (GER) brings people together to protect, connect and restore healthy landscapes across 3,600km of eastern Australia. Since 2007, we have been working with our partners to stem the loss of native wildlife and their habitats, provide integrated natural solutions to the climate and biodiversity crisis, protect precious resources, and ensure thriving, resilient landscapes and ecosystems for nature and people. By working together and supporting efforts in the highest priority places, we are achieving something far greater than the sum of our parts – securing the future of one of the world's great landscapes and the wildlife and communities that live within. Learn more at www.ger.org.au
To learn more about the Glideways, Flyways and Stepping Stones project, WIRES, and the Great Eastern Ranges, read our WIRES-GER partnership announcement and visit www.ger.org.au.