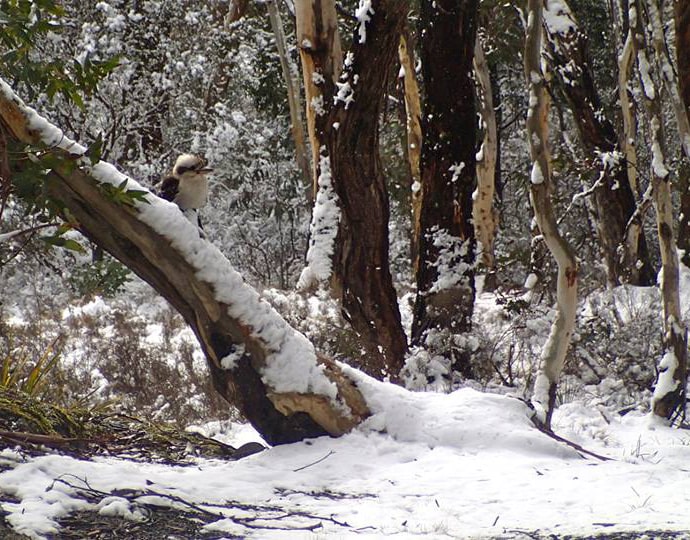 Winter and extreme weather advice to help wildlife
Saturday, July 11, 2015
While most native animals are well adapted to changes in climatic conditions they can still suffer hypothermia. Animals can cope with extremes in temperatures they are used to, but if these extremes are unusual for a particular area the animals there will struggle.
If they have a health issue, or are very young or old, it will be harder for them to cope - just like in people.The increasing loss of suitable habitat including the loss of leafy vegetation and older growth trees with hollows for shelter means more animals are at risk in the cold.
Tree hollows are particularly essential for our native parrots and many of our marsupials and as less and less are available for shelter it means more creatures may suffer from exposure and more animals may seek refuge in unusual places e.g. garages, sheds or houses.
Please keep an eye out for animals exposed to the elements.
If the animal is nocturnal, but seen out in the daytime, there is a problem.
Very young, injured or sick animals will succumb to hypothermia quickly if left unprotected so if you think that an animal is in distress please act quickly by calling WIRES 1300 094 737
During winter many native animals do come closer to the road to feed, be aware of animals crossing roads especially near water sources like creeks or gully's where thick fog may occur. Please drive to the conditions to help avoid collisions with wildlife and consider downloading the WIRES rescue app so that you can report a rescue from your phone and read detailed emergency care advice for different species or find the nearest vet.
Please check pouches where it is safe to do so as any young animals will not survive long in these conditions. Keep any distressed animals warm (ideally wrapped in a natural, breathable material like wool) and quiet until you can get help. Warm, dark and quiet means: around a constant 25 degrees, in a cage or box, lined and covered in a blanket or towel and away from children, television and pets. Do not handle and do not attempt to feed.
If you can't get onto WIRES or are unsure of what to do, take the animal to the closest vet. They will have numbers for wildlife carers in the area and can take care of animals appropriately in the meantime. If you download our free WIRES rescue app to your phone you will be able to find your nearest vet quickly.
Microbats and Flying-foxes
Insectivorous bats must come into care if they are disturbed in a wood pile or turn up in a house or elsewhere. They should be deep in torpor and well away from people.
Juvenile flying-foxes may also turn up in odd places during very cold weather and should also come into care.
Remember if you do find a bat of any sort please do not touch it yourself but do call us on 1300 094 737.
Recent Posts
Read about some of the seasonal behaviour of native animals