Rescue Stories
November 2022
St Carthage's Barn Owl
Photo Credit for barn owl and Cathedral Pipes in eNews Marion Nel.
In early November WIRES received a call from Margaret, a caring parishioner who was concerned about a Barn Owl inside Lismore's St Carthage's Cathedral. It is believed the young Barn Owl was chased by magpies and flew through the open doors and high up into the ceiling of the cathedral. Birds sometimes become trapped inside buildings and as their instinct is to fly high up to escape, they cannot find the way out again.
The side door and windows were opened at night, and water provided, but the confused owl couldn't find his way out. Over the ensuing days WIRES NR raptor carer Melanie, with help from WIRES members Simon and Marion, put various plans in place to try to help the owl, including trying to lure it down to the doorway, trapping and an extendable pole. Experts were consulted, including the WIRES Raptor coordinator, ecologist Dr Greg Clancy and experienced raptor carer Danny from WIRES CV.
Nothing was working and time was running out for this little owl but then on Saturday, a full ten days after flying into the cathedral, it somehow went down inside one of the grand organ pipes. WIRES volunteers Simon and Marion arrived quickly and were able to conduct a very tricky rescue and extract the owl from the pipes. The owl was safely contained and taken directly to WIRES carer Julie who gave fluids and let him rest quietly. He was checked by a vet and then stayed in care with Danny until fully fit again. After ten days of care and lots of mice, the owl was released at night by the river near the cathedral. With two flaps of his beautiful white wings, he disappeared into the dark gum trees.
Thank you everyone who was involved in helping this little owl including Greg, WIRES volunteers and St Carthages staff, Father Bing, the Sisters and the parish community. This is an incredible story of compassion, determination, and cooperation between so many people to help this precious little Barn Owl.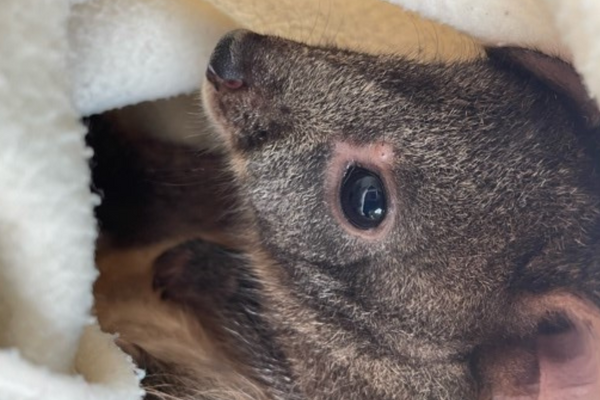 A pademelon mother was caught on barbed wire in Woodbridge, Tasmania. Her joey was nearby only meters from the fence where the mother was caught in low-lying scrub calling for her. The mother sadly passed away, but her joey was in good condition and at an age that made it possible for short rehabilitation and release. The joey took a lot of patience and time to capture safely. Due to its condition, the joey was able to go straight into care. The joey came into the temporary care of the ERT responder for the weekend while a longer term carer was being arranged. The joey will remain in care while a juvenile, before being released back into the bush.
August 2022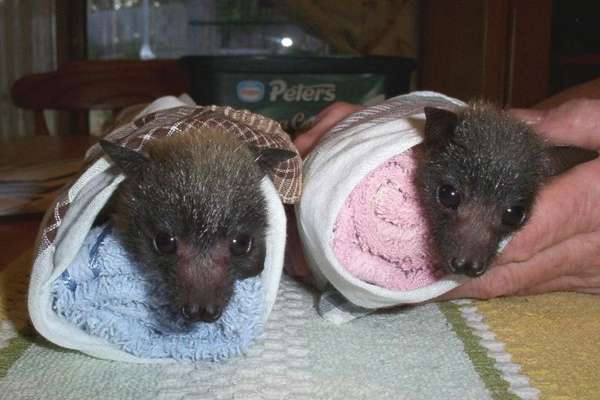 When a Grey-headed, underweight flying fox was rescued from a Newcastle school last month, it felt like a chance encounter with an old friend for WIRES volunteers on the Mid-North coast. The fact the flying-fox was banded led to an investigation, which revealed he'd been released by WIRES in 2004!
Thanks to some meticulous record-keeping by the branch, it was discovered that a tiny three-week-old flying fox pup had come into care with WIRES Mid North-Coast in November 2003. He was nicknamed 'Belgarion' and buddied up with two other orphans. The trio thrived and when old enough were transferred to the WIRES Bellingen bat creche to prepare for life in the wild.
The news of his rescue almost 19 years later has thrilled the local WIRES volunteers, especially his carer Stephen, who fondly remembers Belgarion as being one of the very first pups in his care. Belgarion is now having a few weeks rest and rehabilitation to prepare for his second release.
It is a credit to our dedicated volunteers that orphans like Belgarion not only survive but live such long and valuable lives pollinating our native flora, particularly following the Black Summer bushfires. In the words of WIRES Mid-North Coast volunteer Denise; "It is stories like these that makes all the rescues and rehabilitation we do so very rewarding."