Help WIRES to put food in the mouths of hungry animals
Thursday, October 5, 2017
The NSW Wildlife Information Rescue & Education Service Inc. (WIRES) is encouraging everyone to get behind its annual Food Fund during the month of October.
"Each year, WIRES runs this online campaign to assist our network of 2,500 volunteers to pay for food for the animals they have in care," said WIRES CEO Leanne Taylor.
At this time of year, and through the Summer months, WIRES volunteers will be feeding hundreds of hungry young animals. And, the rescue and assistance calls from the public just keep on coming.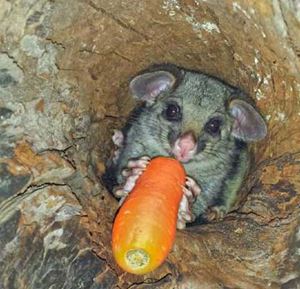 "Our dedicated volunteers are already hand-feeding large numbers of kangaroos, wallabies, gliders, wombats and possum joeys along with numerous species of native fledgling birds," said Ms Taylor. "They all come into WIRES due to injuries,displacement from their habitat or being orphaned while they are still dependent on their parents for food and warmth."
Ms Taylor said that the Food Fund presents a great opportunity for people who are passionate about supporting our wildlife but who can't care for animals themselves, to contribute directly towards their care.
"One of the largest costs in running a wildlife rescue service like WIRES is paying for food. Although we provide subsidies and funds to our branches around the state, we know that many of our dedicated volunteers also pay for food out of their own pockets," said Ms Taylor.
Launched in 2014, the Food Fund raised $15,000 last year and WIRES hopes to raise at least twice that amount this year.
"We hope that one day we will be able to raise enough to cover our entire annual food cost for wildlife in care which is around $222,000 annually," said Ms Taylor.
For more information about the kinds of food we need to provide for native animals and how you can help, visit wildlifefoodfund.org.au
Media Contact: Paula Wallace, 0404 088 501, [email protected]
---
ABOUT WIRES
WIRES is Australia's largest wildlife rescue organisation. WIRES has been rescuing and caring for sick, injured and orphaned native animals for over 35 years with a mission to actively rehabilitate and preserve Australian wildlife and inspire others to do the same. WIRES' Wildlife Rescue Office answers calls from the community 24/7, 365 days a year, providing rescue advice and assistance for over 130,000 animals annually. Connecting wildlife to real-time assistance, WIRES full-time mobile Wildlife Ambulances operate across New South Wales, South-East Queensland and Tasmania, and WIRES had over 3,500 volunteers assisting with wildlife rescue and care in NSW. WIRES is supporting thousands of wildlife carers across Australia through a diverse range of national programs. WIRES also collaborates nationally with strategic partners to support the long-term recovery of wildlife habitat and the long-term preservation of native species in the wild.
For more information on WIRES wildlife programs visit www.wires.org.au.
MEDIA CONTACTS
WIRES Media Officer: John Grant | 0416 272 153 | [email protected]