Every year WIRES receives tens of thousands of rescue calls for native animals in distress. Those animals rely on ongoing support from people like you to make sure they're rescued quickly, and receive longer-term care if they need it.
By becoming a WIRES Virtual Carer you'll be joining a group of people dedicated to protecting Australia's wildlife. For just $20 a month you'll be making sure our rescue teams continue to provide distressed native animals with immediate assistance, and where possible, a second chance of life in the wild.
As a WIRES Virtual Carer, you'll also receive monthly updates on the rescues and releases you'll be helping make happen!
Or you can:
Call our Support Team Monday to Friday on (02) 8977 3396 to sign up over the phone, or discuss any questions you my might have.
Organise a direct debit from your bank account by printing a direct debit authorisation form and emailing it to

[email protected]

or posting it to: WIRES, Reply Paid 88452, Warringah Mall NSW 2100.
All donations to WIRES over $2 are tax-deductible. WIRES is an ACNC Registered Charity.
Thank you for your generous support. Australian native species desperately need you.
Here's how you are making a difference as a Virtual Carer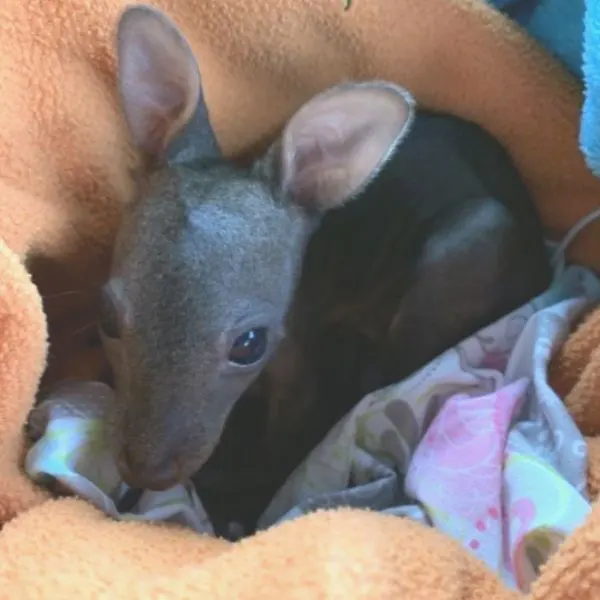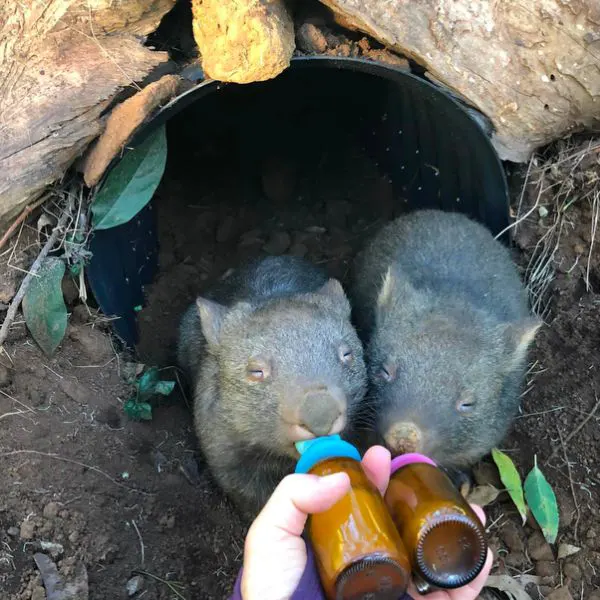 Infant Tasmanian Pademelon rescued just in time
When a passing motorist called to report a Pademelon that had been hit by a car in Tasmania, she was fairly sure the mother was dead, but hoped we could send a rescuer just in case. Her instincts were correct. Whilst the mother had been dead for several hours, a pouch check revealed that her teat was extended, suggesting she'd recently been suckling an infant. The WIRES rescuer searched the area and found the young joey, a few metres from the road, hiding amongst rocks. She quickly warmed the joey who was cold, frightened and dehydrated, and provided him with vital fluids. After a few hours of careful monitoring he was transported in our Emergency Response Vehicle to his specialist carer, where he's now being provided with the care and rehabilitation he needs for an eventual release back into the wild. Thank you to the passing motorist – and thanks to you for making his second chance possible.
Three wombat joeys in the next phase of rehabilitation
Car accidents and ongoing floods continue to have a devastating impact on wombat populations and WIRES now have several orphaned wombat joeys in care. Whenever possible, wombat joeys are buddied up so they can grow and develop together, before their release. 'Poppet' pictured was separated from her mother during the recent floods. She was found in a back garden near Nowra NSW, exhausted, wet and very cold. She's now been buddied with Gus and Bear, who both lost their mothers in recent car collisions. Both had been relatively protected in their mother's pouches and had escaped with just a few scratches on their heads. Wombat joeys stay with their mother in the pouch for 7-10 months, so all three were far too young to fend for themselves and are now receiving dedicated long term care. As you can see from the photo they are now at the second stage of their rehabilitation, learning to dig and burrow in their natural environment and it is very thirsty work!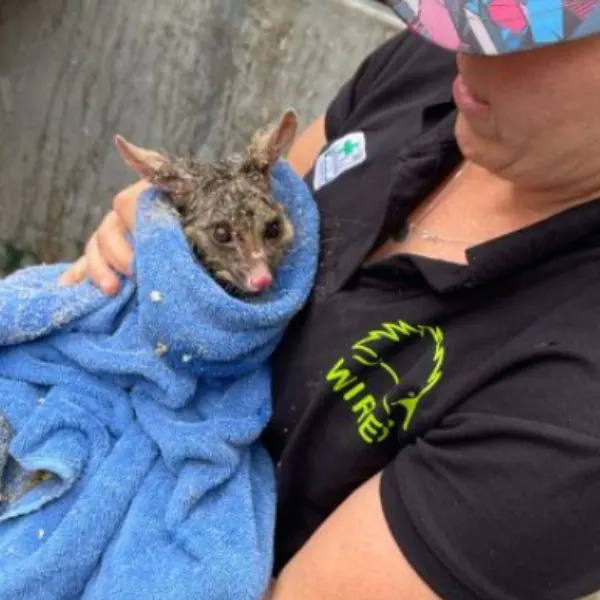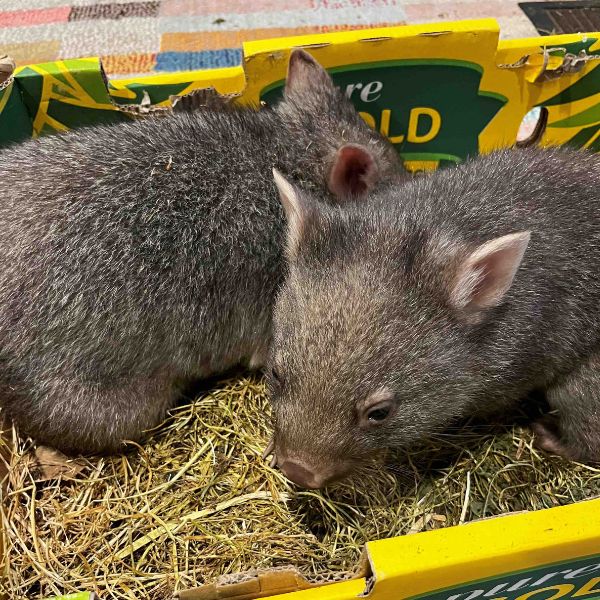 Orphaned joey now in care
A brushtail possum and her joey were found on a building site in Queensland last month, covered in sawdust, in the pouring rain. The mother had her head stuck through an industrial bin and her joey was clinging to her back. Due to the seriousness of the situation, a WIRES emergency responder was called to assist Wildcare volunteers at the scene. The mother had likely been stuck the whole weekend, with her baby never leaving her side. She was suffering with hypothermia and was not very responsive, and so couldn't be sedated due to the risk it might kill her in her weakened condition. Rescuers worked together to gently release her from the situation, carefully monitoring her consciousness and breathing. Both mother and joey were quickly warmed and reunited after the ordeal, and had their eyes flushed with saline to remove the sawdust. Very sadly, the mother had to be euthanised due to the seriousness of her condition, but her young joey survived and is now safe with an experienced Wildcare carer. Our hope is that he'll grow strong and healthy for an eventual release back to the wild.
Two young wombats trapped in flood waters
When surging flood waters began engulfing a local property in flood-stricken southern NSW, two young wombats were clinging to their lives. One was clasping a wire fence to keep his head above water; the other was desperately swimming. Luckily, the property owner witnessed their distress and was able to rescue both. She called WIRES for assistance, and they're now with their WIRES carer, learning all the skills they'll need for an eventual release back into the wild.