WIRES Sydney North Shore
Rescue
For all wildlife rescue please call 1300 094 737 or use our Report a rescue form
For all general enquiries please complete an enquiry form.
Branch Description
Wires North Shore branch looks after the leafy northern suburbs of Sydney and covers from Mooney Mooney and Milsons Passage on the Hawkesbury in the north, south to McMahons Point and Kirribilli on Sydney Harbour. Area's west to Dundas and Oatlands and east to St Ives, Killara and Northbridge. The area has a large variety of wildlife and includes national parks like Lane Cove National Park and parts of Ku-Ring-Gai National Park.
Get Involved
We need more volunteers to assist with wildlife rescue and rehabilitation. If you are interested in joining us, please read our branchrmation about becoming a volunteer.
Local Stories
Sleepy Grumpy Wombat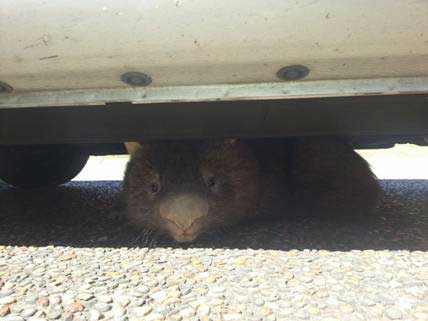 Is that a possum I see before me....NO, it is a sleepy, grumpy wombat. This wombat found a nice snug place to sleep in Cherrybrook on Tuesday 8th September.
Unfortunately the member of the public did need to use the car so with a fantastic team effort (WIRES, RSPCA, the owner of the vehicle and family and neighbours) this wombat was relocated to the bush about 1 km away on the edge of this suburban area.
Wombat transport
Note the lovely red lidded transport container. The possum rescue basket taken to this routine 'possum' pick up was woefully inadequate!