WIRES Sydney Inner West
Rescue
For all wildlife rescue please call 1300 094 737 or use our Report a rescue form
For all general enquiries please complete an enquiry form.
Branch Description
Wires Inner West branch is located in Sydney and covers approximately 100 suburbs (some shared with other branches) including the Sydney CBD, the Balmain Peninsula, south to Tempe and west to Belfield. WIRES, Inner West Branch cares for over 4,000 native animals each year. We fundraise regularly to raise money for the provision of specialist food and equipment for animals in care in the Inner West.
Local Supporters
"Kukundi Flying Fox Creche & Adult Release Facility is a jointly run WIRES and SMWS facility in conjunction with NPWS. It runs two programs; (a) an adult flying fox release program, and (b) a creche and release program for hand-raised, flying fox pups. The latter program is also run in conjunction with Ku-ring-gai Bat Conservation Society who are responsible for the pup release cage which resides close to the flying fox camp in Gordon. The adult program involves developing flight fitness for adult flying foxes prior to release and a soft release process as the adults settle back into to life after rehabilitation, and runs throughout the year as needed. The creche program is designed to assist flying fox pups to dehumanise and to develop flight and social skills. It involves a soft release process while our pups learn how to forage and integrate with the local colony. The creche program usually runs between January to May (depending on many factors).
While these programs run, three shifts of volunteers are required daily to cover cleaning, fruit cutting and feeding. This is a unique facility that provides an important role in providing the best release processes for flying foxes both adult and pup."
Get Involved
We need more volunteers to assist with wildlife rescue and rehabilitation. If you are interested in joining us, please read our branchrmation about becoming a volunteer.
Local Stories
Black-Cockatoo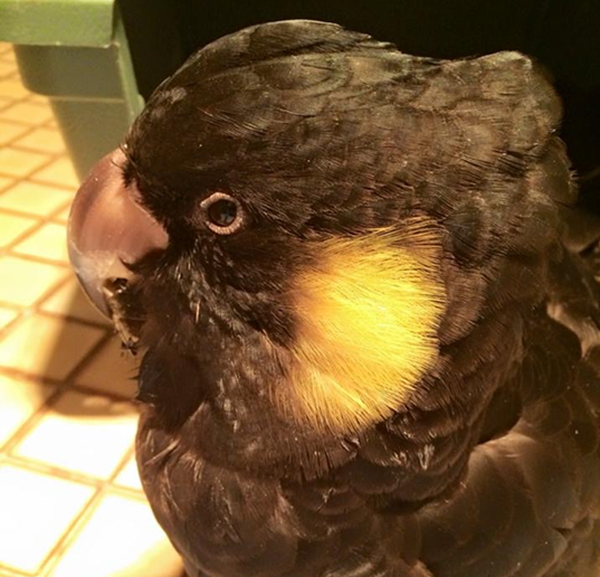 This sick juvenile Yellow-tailed Black-Cockatoo was found orphaned at Marrickville Park in early June, 2015 is now thriving.
Little Opal, as the chick has been nicknamed, was found on the ground weak and unable to feed itself by a member of the public who passed it onto the wildlife rescue organisation WIRES.
Angela, a carer with WIRES, said the the young cockatoo needs to be fed every three hours by a special syringe. "The poor little thing could hardly lift its head or even sit on a perch," she said. "After treating her with fluids and feeding her over the weekend, I took Opal to the Summer Hill Vet clinic for a full examination and she was put on a course of antibiotics as well." The bird is believed to be about three months old.
These cockatoos are an occasional visitor to the inner west area, but Marrickville doesn't have the most viable habitat as they usually need large tree hollows for breeding.
After two weeks in care Opal began flapping her wings and looking alert. Since the rescue, an adult pair of yellow-tailed black cockatoos have been seen at Marrickville Park, and Opal will be taken out there to them to see if she is able to call for its family. Reuniting with parents is always the best option wherever possible.