WIRES Sydney East
Rescue
For all wildlife rescue please call 1300 094 737 or use our Report a rescue form
For all general enquiries please complete an enquiry form.
Branch Description
WIRES East Branch covers the Eastern suburbs of Sydney from the harbour side suburbs of The Rocks to Watsons Bay in the north, along the coastal suburbs from Watsons Bay down to La Perouse, around the eastern half of Port Botany up to Sydney Airport and back up to the CBD. The East branch covers a high density population and a range of environments including ocean and harbour beaches, steep cliffs, small waterways, expansive parklands and trees in the urban environment. There is an abundance of wildlife in this area consisting of possums, bats, flying foxes, turtles, lizards and birds including fairy penguins, herons, cockatoos, kookaburras, lorikeets, pelicans and many more. We work closely with adjoining WIRES branches in the Inner West and Southern Sydney.
Local Supporters
We have a branch aviary, "Hendy Aviary" comprising of seven possum aviaries, a flight aviary for large birds, three aviaries for medium sized birds and one smaller bird aviary. A team of members help on a roster to feed the possums once daily. The birds are fed twice daily also by a member team. Members are given a 'practical workshop' of what to feed the animals and what to do at the aviary. Members learn to gain confidence with the animals that come into care and learn what they eat. It is an ideal way to learn about our possums and birds.
We conduct various fundraising activities, including regular BBQs and information stalls at local Eco-fairs.
Get Involved
We need more volunteers to assist with wildlife rescue and rehabilitation. If you are interested in joining us, please read our branchrmation about becoming a volunteer.
Local Stories
Southern Giant Petrel rescued in eastern Sydney
This is a white phase Southern Giant Petrel, Macronectes giganteus. The bird was found ashore at Clovelly side of Gordon's Bay on the rocks exhausted, late on Saturday afternoon the 3rd August 2019 by local residents, Greg and Janine. Greg and his wife took the bird to Sydney Veterinary Emergency & Specialists in Rosebery. The veterinary staff on duty consulted Taronga Wildlife Hospital and administered necessary fluids to rehydrate the exhausted animal as first aid. The bird was then picked up by local WIRES East branch volunteer Michaela Sukopova. It did not take long for the bird to start showing signs of feeling better. Michaela subsequently called SOSSA to properly identify the species and for consultation on how to best house and care for the bird overnight until it could be taken into rehabilitation.
This Southern Giant Petrel was collected from Michaela by another WIRES volunteer Pauline Duncan who transported it to Wollongong on Sunday for assessment, as the Taronga Wildlife Hospital where SOSSA would normally send such birds for rehabilitation was closed due the late hour. Such birds need specialised care and housing.
This bird is now in the care of another volunteer for Wildlife Rescue and SOSSA, Betty Spilsted, a very capable and experienced seabird rehabilitator who just loves anything unusual. Betty asked the SOSSA seabird expert Lindsay Smith OAM. for advice. On inspection, Lindsay was confident that this magnificent white Southern Giant Petrel was at a good weight with no injuries and it will be fine to be released in the next couple of days.
The white phase of the Southern Giant Petrel is very rare in our local waters. The nearest breeding grounds of this species is on Australia's sub-Antarctic Macquarie Island at latitude 54°30' South, longitude 158 56' East, approximately 2370 kilometres from Sydney. Only approximately 5% of the population are of this white phase, whereas the rest of the population is of the far more abundant dark brown phase.

This young bird is most likely a juvenile, which would have fledged from the breeding grounds some time between late April and mid May. At approximately 115 days of age this would make it her maiden voyage! Most immature birds remain at sea for about four to five years before returning to land to breed at 6-8 years of age.

Young birds from Macquarie Island have been recovered as far east as the west coast of South America, others may go on to circumnavigate the Antarctic continent.
The local Water Police were happy to assist with the transport and release on Tuesday afternoon 6th August 2019 at 1.30 pm. Regards and thanks to all as this proves that working together and the networking really does pay off!
Tiny Rocky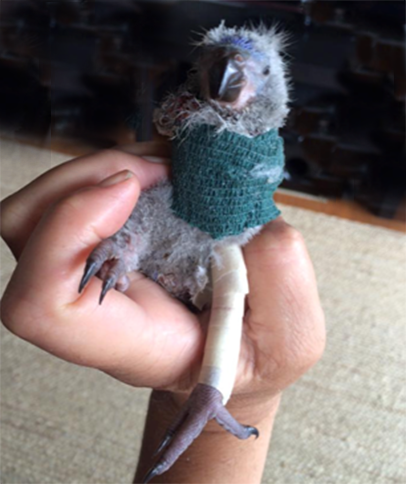 Tiny Rocky came into care grey, fluffy and weak, with a broken wing tip, and badly broken leg!
He was x-rayed, strapped and prescribed pain killer for a couple of days. Due to his tender age and the extent of injuriesy, the prognosis was not great but he looked like a little fighter (hence the name).
Rocky needed to keep weight off the broken leg, so we made a special harness for him.
After 10 days his wing healed nicely and the strapping could come off just in time for him to start getting tiny pin feathers and start stretching and flapping (high pitched screeching was always high on his agenda)
After another 10 days, an x-ray showed his leg was healing but still not strong enough to support him, so he had to be strapped again.
After another week, the strapping was able to be removed and movement in his leg and foot was back to normal.
Rocky was buddied up with another lorikeet in care around the same age. After some time in an aviary to build up strength he was successfully released back to the wild.