WIRES Clarence Valley
Rescue
For all wildlife rescue please call 1300 094 737 or use our Report a rescue form
For all general enquiries please complete an enquiry form.
Branch Description
WIRES Clarence Valley is on the North Coast of NSW and our area of operations is approximately the same area as the Clarence Valley Local Government Area following the Clarence River from around 'The Gorge' down to the sea.
This includes the city and towns of Grafton, Maclean, Yamba as well as riverside villages such as Copmanhurst, Ulmarra, Brushgrove/Cowper, Harwood and Tyndale. In the south we cover to the Glenugie, Wooli, Pillar Valley area and along the coast to the north, the area around Iluka, Mororo and Woombah.
Our activities cover a wide range of species, the largest being the Eastern Grey Kangaroo and at the other end of the scale, Feathertail Gliders. Our avian 'clientele' includes a number of marine species as well as the usual range of raptors and parrots.
Local Supporters
In 2015 Clarence Valley WIRES bat specialists assisted another branch to our north with the rescue and care of hundreds of grey-headed flying fox pups that were orphaned around Casino during a heatwave.
Clarence Valley WIRES received of a number of orphaned birds and small mammals that were displaced as a result of clearing for the Pacific Highway upgrade, currently under construction in our local area. Potential habitat trees had been identified by the environmental monitoring teams prior to clearing. The surrounding areas were cleared and the habitat trees left to give any resident animals time to relocate. When trees were felled the ecologists were on hand to rescue any animals that had not moved on. Our branch was contacted to care for rescued pardalote and little lorikeet nestlings, a pair of juvenile feather gliders and a tiny squirrel glider left behind in a hollow by his distressed mother who ran off with his twin.
We welcome requests from schools and community groups to conduct education talks and host information stalls.
WIRES Clarence Valley is well supported by: NPWS Grafton and the Clarence Valley Council

Get Involved
We need more volunteers to assist with wildlife rescue and rehabilitation. If you are interested in joining us, please read our branchrmation about becoming a volunteer.
Local Stories
Rare Juvenile Sea-eagle Rescue

Thanks to a joint WIRES effort across NSW and a special procedure, Clarence Valley WIRES has successfully released a Sea-eagle back into the wild.
A member of the public, out walking in Palmers Island, noticed a Sea Eagle circling above a juvenile which was caught on a fence. After a quick call to WIRES, members Danny and Tony from Clarence Valley arrived to rescue the bird, which had twine around its right wing and this was caught in the barbed wire fence.
After a successful extraction, the bird was taken to Grafton vet, where local vet Tessa x-rayed and treated its minor cuts. The X-ray showed no broken bones however 4 of its primary feathers were badly damaged. Birds of prey like eagles can take up to a year to regrow these main feathers, however rather than keeping a bird in captivity for such a long time, a method called 'imping' can be used to fast track this process and have the time frame cut from a year to a matter of days! In short, the process involves carefully implanting the bird with existing feathers from a previously deceased bird of the same species.
With assistance from WIRES raptor specialists from Northern Rivers and Northern Sydney the young bird was able to be released the following Tuesday back at Palmers Island near its original rescue location. A terrific result!
Rescuing a tiny squirrel glider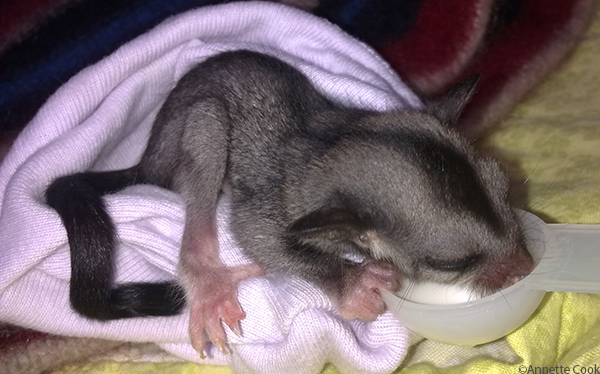 In mid August 2015 a call came from an environmental officer who was working on the Pacific Highway upgrade at Halfway Creek, south of Grafton. He had heard little grunting sounds coming from a hollow in an old tree that had been felled during clearing and rescued a tiny squirrel glider from a termite nest within the hollow.
When the little glider was delivered to one of our carers he weighed in at only 26 g. The chances of survival for this species are not great at this size, especially as he was alone. He was all legs and tail but fortunately he was healthy, and despite his small size and closed eyes, he took to lapping milk from a spoon straight away. Ideally he would have been 'buddied' with another squirrel glider but no others had come into care.
He began to thrive and quickly transformed from this gawky little form and by November was big enough to move to a bigger enclsosure where he could gain his strength and hone his gliding skills.
Unable to be returned to his place of origin, due to the works in progress, suitable habitat was identified at a nearby property. The eucalypt woodland was adjacent to the forest area where the squirrel glider was rescued and provides plenty of food trees, nesting hollows and hopefully potential mates.
Pelican Entanglement - Yamba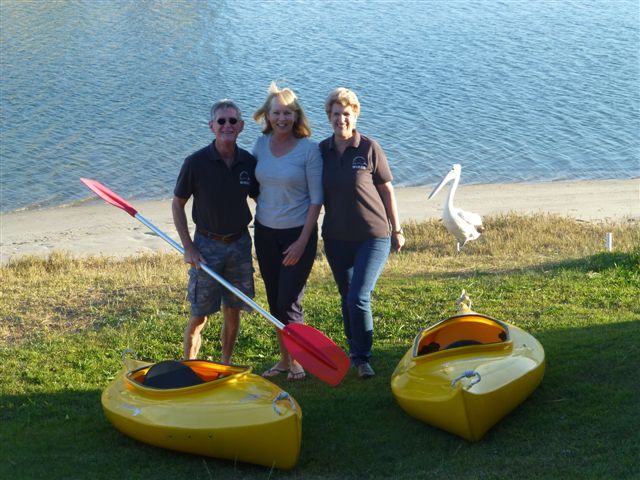 A Pelican in Yamba needed help. Local resident Joyce, contacted WIRES to report a Pelican with fishing line wrapped around its neck and wing and unable to fly. Although the inability to fly was distressing for the Pelican it made it more likely that it could be contained. Containment was obviously necessary to help disentangle the large bird.
Local Clarence Valley WIRES volunteers Garry and Heather headed out to the scene. They found the bird understandably very distressed and as soon as they approached it took to the water. Our intrepid rescuer, Garry ably assisted by Joyce took to the water in kayaks.
Eventually Garry managed to secure the bird next to his kayak and Joyce was able to tow him back to shore as he kept hold of the pelican.
Once there, Heather made quick, careful work removing the fishing line, a quick once over and it was given the all clear and released back into water, tail feathers swishing and wings flapping.
Hugs and high fives for everyone involved as they watched it swim away. Huge thank you to Joyce for calling WIRES and assisting in a successful rescue!
Joyce has since reported that the pelican has returned and you can see in the sunset photo is looking healthy.
Please remember to always discard fishing line properly to prevent avoidable injury and death to the birds and animals that inhabit our waterways.
Image thanks Joyce de Bruyn & Garry McKenzie