Young Archie finalist inspired by wildlife
Wednesday, September 19, 2018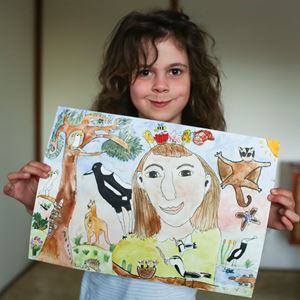 Maya was recently selected as a finalist in the Young Archie's for 2018. Maya's 'self portrait with animals' was one of five finalists selected in her age category from more than 1400 entries! When we saw her amazing entry we knew we had to talk to this inspiring young girl to find out more.
The drawing and short description Maya sent in with her entry captured our hearts.
"I have chosen to draw myself surrounded by native animals because they are very special to me. I think it's important to take care of our environment and the animals that we share life with. We can help the animals by planting more native plants and protecting their habitat. I like watching magpies visiting our garden and splashing in our birdbath."
We asked Maya a few questions about her artwork and her love of wildlife.
Why did you decide to draw yourself with animals?
Because animals make me feel happy and I love nature.
What's your favourite thing to draw?
Birds because they make beautiful sounds, I love watching them and the way they communicate with each other.
When did you start drawing?
I don't really know but I think it was when I was really young, my mum used to get paints out for me and we would paint together.
What is your favourite Australian animal?
If its a mammal, then my favourite is a platypus because they are really playful in the water. I also love emu's because they are flightless birds and they have interesting feathers and are funny!
If you could work for in wildlife rescue, what animal would you want to rescue and care for?
A baby echidna because they are so cute or a baby wombat because they are big and playful.
What do you want to do when you grow up?
A scientist and study zoology so I can learn all about how animals live and how they communicate. I also like learning about dinosaurs so a palaeontologist would be interesting. I also would like to be an artist.
If you could tell everyone one thing about why the environment is important, what would you say or what would you want them to know?
We should take care of our environment because nature gives us life. Plants and trees are beautiful and give us shade, food, flowers, shelter and oxygen and they make us feel good. It is important to protect native trees because they are important habitat for koalas, possums, bats, birds, reptiles insects and many other species.