Wedge-tailed Eagle crashes through windscreen
Monday, July 3, 2023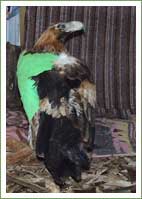 The last thing a young man and his friend were expecting when driving their ute on a back road near Tabulam was a Wedge-tailed eagle flying up from the side of the road.
Unfortunately that is exactly what happened. It collided with the car and went straight through the windscreen. The eagle was a young female and she landed on the driver who amazingly was able to keep his cool avoiding a serious crash.
The eagle was stunned and the drivers friend quickly covered her in a horse blanket so the driver was not injured further by her strong talons, he luckily escaped with minor cuts from the shattered windscreen.
Not surprisingly the eagle came off second best with some cuts and a badly fractured wing between shoulder and elbow. WIRES rescuers, Kim, Christine and Kate, were called to the rescue, and the eagle was then transferred to raptor carer, Melanie.
The unlucky Eagle was taken straight to the Casino Vet Clinic where she was x-rayed by veterinarian Phil. She was sedated and taken in to surgery to insert a pin into the fractured bone. Even though this magnificent Eagle has been a real problem patient, fighting both the strapping and the confinement, we are cautiously hopeful she will make a full recovery.
Please be aware eagles often come down to road sides to feed on road kill such as kangaroos or rabbits. They are a large heavy bird, especially with a crop full of food and it can take them great effort and time to get fully airborn, often across the road and into oncoming traffic.
Image and story thanks to WIRES Volunteer, Melanie Barsony