Wallaroo rescued from suburban roof!
Friday, February 7, 2020
Late on Sunday night a very unusual call was received from a suburban location in South Western Sydney. The caller told us there was a 'kangaroo' on her roof!
WIRES volunteer Amy had just got into bed when she saw the rescue alert. After speaking to Lesley, the homeowner who was able to send a photo to convince Amy the call was genuine she climbed out of bed and drove 30 minutes to the house in Glen Alpine.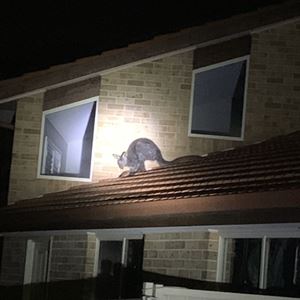 When she arrived she found a distressed wallaroo had indeed taken refuge on Lesley's garage roof.
It is possible the wallaroo took fright on nearby Menangle road and after racing up the steps of the house it leapt one metre up onto the garage roof. Wallaroos do like rocky outcrops and the garage roof may well have seemed the safest and closest option in the suburban streets where it found itself.
Despite attempts it could not be moved on safely and without creating more stress, which can in itself be fatal for large macropods and was a major concern. Amy instead guided him to a further part of the roof where the drop to the ground was less and it faced a wildlife corridor rather than the busy road.Lesley and her family checked on him through the night and everyone was very relieved when early the next morning it hopped down off the roof.
WIRES volunteers were able to check later that day and found evidence that he had made it safely to the wildlife corridor.
Wallaroos are found across most of Australia and although they share some features with both kangaroos and wallabies they are not a hybrid kangaroo-wallaby.
The importance of maintaining wildlife corridors in developing suburban locations is clearly highlighted by this rescue as human development continues to displace more and more wildlife.
Image thanks: Lesley Midei and Amy Koutsomihalis