Waif in the wind
Tuesday, August 16, 2011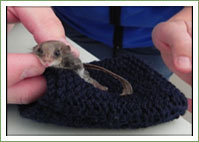 It was early July when the very strong winds hit the far south coast.
This little waif was found at Jellat Jellat, presumably having been blown out of a tree the night before. A very precious feathertail glider.
She was cold, frightened and shocked. She was taken to Janine by the kind person who found her and after a few days of Janine's hospitality and warmth she was fit and healthy again and able to be released back in her area.
This photo is of the little lady resting on a snug warm pouch that was knitted for just such an occasion by one of the pupils from the local Marshmead School.
If you would like to knit pouches or make linings for your local WIRES branch you can find the patterns and details on our factsheets page.