Vale Helen George
Wednesday, February 28, 2018
The WIRES family was deeply saddened to hear of the passing of Helen George late last year.
Helen was one of the few very important people who contributed to the inception of WIRES in the mid-'80s. In 1987 she was awarded the Medal of the Order of Australia for her services to conservation and in 2010 the Australian Wildlife Society awarded Helen the Serventy Conservation Medal.
Helen was the WIRES go-to person in those early days, always there for advice and support. WIRES certainly would not be the organization it is today without Helen's passion for wildlife, particularly in the areas of education and training, mentoring, and support. Helen was an invaluable advisor to the original WIRES committee and was respected and highly regarded by all who came in contact with her.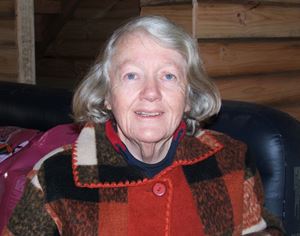 The WIRES extended family pass on our heartfelt condolences to Helen's husband John and their family, our thoughts are with them and we will be forever grateful for Helen's invaluable contributions to WIRES.
Below are some anecdotes about Helen from our founder, Mikla Lewis, and other WIRES members who have worked with Helen over the years. We wanted to share these anecdotes to provide a glimpse into the history of our organization and how important Helen was to our cause.
Mikla Lewis OAM (founder of WIRES):
I first met Helen in early 1982, long before there was even a concept of a wildlife rescue service in NSW. Our meeting, and indirectly the formation of WIRES, came about because of a baby Grey-headed Flying-fox called Luna that I had found and cared for in the north coast town of Bellingen where I lived in 1981. Unfortunately, Luna died after about six weeks in my care – my attempts to find information on how to raise a flying fox had come to nothing.
Not long after returning to Sydney to live, I noticed an article in the local North Shore Times newspaper about an upcoming public talk being organized by the Ku-ring-gai Bat Conservation Society (KBCS) with Helen as the guest speaker. I was keen to go along to meet her, as she had successfully hand-raised orphaned flying foxes where I had failed. After the talk, I introduced myself to her (and Peter the flying fox) and related my experience with Luna. In response to my obvious passion for flying foxes, she kindly invited me to visit her home in Mt Kuring-gai where she and her husband John looked after an assortment of native animals, including a number of flying foxes.
Later that year the first discussions about a wildlife rescue service took place between me, Animal Liberation, and NSW National Parks and Wildlife Service (NPWS). Helen and I had kept in touch and I remember telling her about the idea. She was immediately supportive and continued to advise us over the next few years as a group of us worked towards establishing the organization.
On 31st August 1985 on Margaret Throsby's ABC radio program, NPWS media officer John Dengate announced to the world a new organization – a wildlife rescue service called WIRES. Later that day, as a result of John's broadcast, I took the very first incoming WIRES phone call. An old blind, mangey wombat was making a daily visit to a Wollongong garden and the woman resident was in need of some advice on what she could do to help the poor animal. Back then WIRES was only set up to operate in Sydney, so this first call presented us (the two Coordinators - Valerie Thurlow and me) with a challenge we had not anticipated. Like so many rescue calls over the ensuing months and years, we required Helen's vast experience and knowledge to deal with the situation. On the other end of the phone, Helen's voice was calm and reassuring as she gave us the name and phone number of an experienced wildlife vet in Wollongong that she knew. "Tell the woman to put the wombat into a trailer, if she can catch it, and bring it to me and I will look after it," said the vet when I rang him the next morning. Easy! I rang the Wollongong woman back and gave her the vet's instructions. "Oh, that's OK" the woman replied, "I've solved the problem - I've shot the wombat!" At that stage, I think Valerie and I wondered what the hell we were getting ourselves into, but Helen reassured us that this was all part of being in the wildlife rescue game.
The success of WIRES over the past 30-plus years has been due in no small part to Helen and her husband John, who supported Helen in all she did. Through John (who worked for the former DMR/RTA - Roads and Traffic Authority), the very first 'Injured wildlife – phone WIRES' sign was erected on the Hume Highway south of Sydney.
Helen's unequaled experience (gained from over 50 years of wildlife care) and science-based knowledge as well as her generosity of spirit and willingness to nurture and teach others all she knew, resulted in her presenting hundreds of training courses in animal rescue and care to thousands of WIRES members.
Helen and I shared the distinction of being Life Members of WIRES and being the recipients of an Order of Australia Medal (OAM) for services to conservation in NSW. I am so grateful to have known such an amazing person and the world is surely a poorer place for her passing.
Judy MacMaster (early WIRES member):
Helen George was involved with general conservation and in particular, the conservation of injured and orphaned native Australian wildlife since she was a young girl, helping her mother care for animals when they lived in western NSW.
Helen was part of the founding team that set up WIRES in NSW in 1985. She undertook, on a voluntary basis, over many years, hundreds of training days and presentations for WIRES and other wildlife groups throughout eastern Australia.
Helen trained as a nurse soon after leaving school, so that her compassionate nature could help humans, as well as animals and birds. Her quest for knowledge was unending; her capacity for retaining that knowledge was remarkable and her ability to pass that knowledge on in a firm but gentle manner has been acclaimed by all those who attended one or more of her lectures. She was an inspiration to all those who knew her.
During her long career in wildlife care, Helen has had the constant support of her children and her husband John, without whom she could not have done much of what she accomplished. Often, their home was filled with small joey kangaroos/possums/koalas/wombats and tiny echidnas and bandicoots, numerous birds and of course, flying foxes, and the occasional reptile. This menagerie was usually augmented by adult animals needing nursing and time to recover before being released back into the bush. During these hectic times, Helen was available always to chat with people all over Australia, giving advice and help without any hint of the busy life she led. Her patience was unsurpassed – I remember (in the very early days) asking her a most basic question on housing a joey kangaroo when I should have read the notes she prepared for her lectures – there was no reproach from her at all, when really there should have been. I received just warm encouragement and advice.
Helen and John lived for many years in Kangaroo Valley, in a beautiful old home, on several acres. Together with John, they built a wonderful macropod/wombat yard that housed hundreds of animals over the years. Their garden is to be much admired and the vegetables grown by them supplied many friends and neighbors. John is still there and will carry on as Helen would have wished.
Helen will be missed by so many. She has my everlasting admiration and love.
Gaylene Parker (early WIRES member)
When I was first asked to write a couple of paragraphs about my time with Helen I thought, how I will do that! How will it will be possible to fit even HALF of my time spent in her company in those few lines….? Well, the answer is you can't, so I decided to share a couple of the humorous snippets & VERY special moments with Helen that still make me smile & I hope they will for you too.
The 1st time I was given a koala joey to care for by Helen, I was so nervous it soon was VERY clear to Helen that I had 'lost the plot' a bit. So Helen, (in her matter-of-fact way), made it quite clear I had to get over my nerves if I expected the animal to survive!! I also think she would have given me a cuff around the ears if I hadn't gotten over my nerves right away! But her words of encouragement, tinged with a touch of impatience, were enough. 'For goodness sake Gaylene, it's just another animal that needs your help! You know how to look after wombats competently this is just one that just happens to climb trees, so get on with it! And I did, and the koala & I both survived.
Helen, John & I were traveling by car to a Wires training course in a small country town in NSW. I think we had been talking about songs from our youth & the song 'Big Yellow Taxi by Joni Mitchell' came to mind. As we pulled up at traffic lights we started singing the song in maybe slightly elevated voices and as the song came to an end, I looked around & noticed some people were looking at us with bemused faces!? As we pulled away I wondered what they may have been thinking……..older hippies enjoying reminiscing, or 3 friends enjoying their day out together? Both I hope.
Thanks, Helen.
Garry Small (current WIRES member)
Helen was a special person who loved nothing more than her family, caring for wildlife and passing that knowledge on. I look back on times spent with her at her home whilst doing training courses with mist eyes.
Ross Jeffery (current WIRES member)
I knew Helen in the mid 80's when I was part of the Gordon Bat committee. I went to her house many times, partly for advice about my baby bats but also to see all the kangaroo joeys and baby wombats in their bags in the kitchen or hopping or galumphing down the hall. When I was there once there was a thumping sound and the house started shaking. "That's just the wombat. It has dug a hole and is scratching against the foundations" Helen said.
Helen was always patient and kind. This a wonderful example of how all carers should be.
David McKinnon (current WIRES member)
Helen George was my major influence in my early days! Attending her workshops we all left chastened for our over-handling of our wildlife. At one workshop she refused to allow a large leg paralyzed roo, raised from a small Joey, to leave the Workshop alive. The tears the tears!
Visiting her at Kangaroo Valley we learned the benefits of pairing species as Helen had bagged joeys out in light frost and young bats could be seen hanging about her living room.
Helen taught loving Wildlife alone will not give them what is needed in the savage Wild.