Tiny orphaned joey lucky to survive
Tuesday, May 23, 2023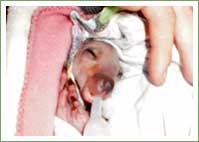 This little Red-necked wallaby came into care when her mother was hit by a car and killed west of Casino.
Both mother and baby were quite cold when the very caring member of the public found them.
Fortunately for this joey this kind lady had found a wallaby joey before, and knew just what to do. She took the little joey straight to WIRES where she was able to start being warmed up before going to a trained macropod carer.
Weighing only 320g and being so cold, her chances of surviving were slim, but we wanted to give her every chance we could.
After her first week in a humidicrib, and with round the clock feeds every 4 hours (and sometimes in between) she was doing extremely well.
She has now been in care for three weeks and is still progressing well. She is now out of her humidicrib and hanging in a pouch and a very fine trace of fur is just starting to appear.
We are realistic that she might still face difficulties – a reality all our volunteers live with, however at the moment she is doing really well and we are quietly optimistic she will face a bright future.