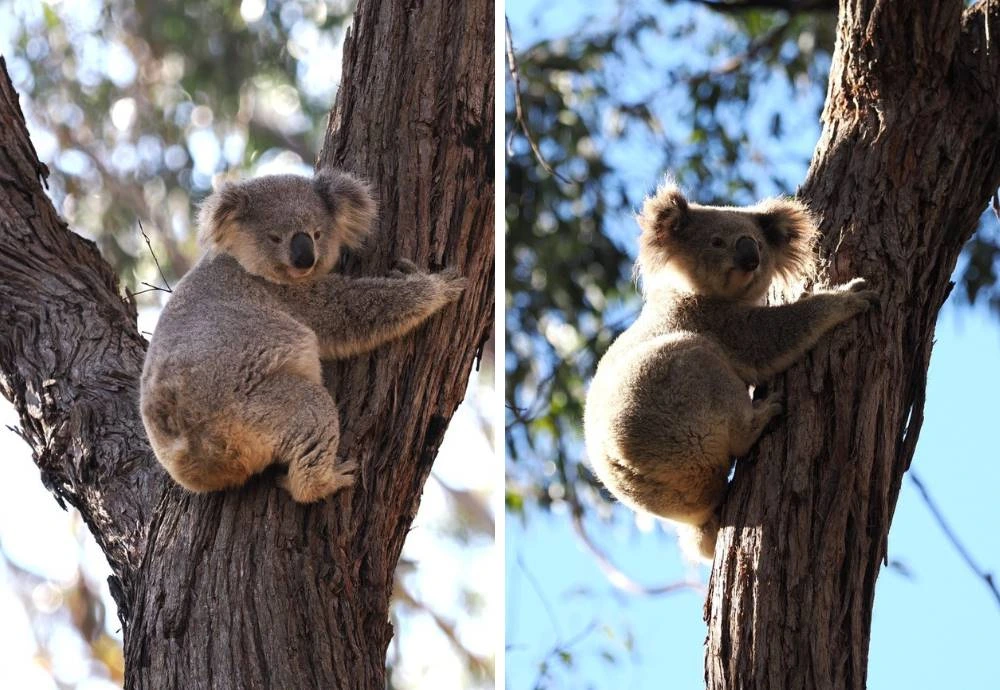 Sophie and Oscar's Journey Back to the Wild
Friday, July 28, 2023
In the southwest of Sydney lives a population of koalas known as the Campbelltown koala colony. In this area, the biggest threat to local koalas is not disease (being chlamydia-free), but wildlife vehicle collisions. Koalas involved in vehicle collisions often don't survive, so the inspiring tale of not one but two local koalas from rescue to release is rare.
Orphaned Sophie was found by Wedderburn locals beside their rubbish bins early one morning in September 2022, weighing just 600 grams. Thanks to the dedicated care of WIRES volunteer Tracey Maguire, Sophie's weight increased over the months in care to nearly 4 kilos.
Oscar's tale, just over a month ago, tugged at our hearts. A concerned motorist spotted the tiny 3.7-kilo juvenile male koala in the middle of Appin Rd in Browns Bush at 10 o'clock at night and immediately called WIRES 24-hour Rescue Office.
Local WIRES volunteers Emma, Tracey and Jackie arrived at the scene in less than 15 minutes by which time the motorist had ushered him off the road where Oscar had scrambled up a small tree, though still dangerously close to passing traffic. The three WIRES volunteers carefully and gently contained him to check for any signs of trauma from a vehicle strike. Luckily there were no visible signs of injury but his ears and paws were freezing cold and he was exhibiting signs of hypothermia.
After being warmed up and checked regularly overnight he was taken to the vet for a full assessment and given a clean bill of health, though he still required observation and testing of his climbing abilities as it was clear from his age that he was not long off his mum's back. After a couple of weeks of observation, he was given the thumbs up, and it was decided the pair of similarly aged juveniles could be released together.
One of the WIRES koala carers, Emma Meadows described the "bittersweet" moment of Sophie and Oscar's release into the natural bushland owned by Wedderburn Christian Camp. While some attachment after months of dedicated care is inevitable Emma said that seeing these two koalas return to a life of freedom is the successful result that all carers work towards and brings with it a real sense of achievement.
We offer our deepest gratitude to the compassionate vets and WIRES carers who nurtured and prepared Sophie and Oscar for their next chapter and to Wedderburn Christian Camp for providing a safe release site for our endangered koalas.
WIRES also acknowledges the support of local members of parliament including Cate Faehrmann MP, Greg Warren MP and Judy Hannan MP, and Penny Sharpe MP, Minister for Climate Change, Minister for Energy, Minister for the Environment, and Minister for Heritage.
For now, it is just the beginning of a brighter future for Sophie, Oscar, and many more native animals needing assistance. With every act of kindness, we create ripples of change that extend far beyond our imagination.