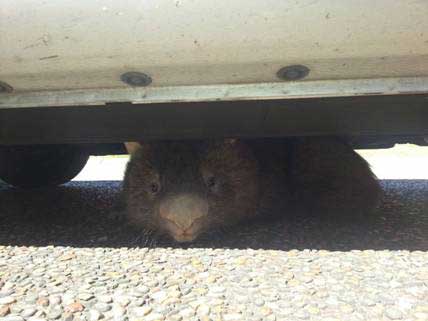 Sleepy Grumpy Wombat
Friday, January 1, 2021
Is that a possum I see before me....NO, it is a sleepy, grumpy wombat. This wombat found a nice snug place to sleep in Cherrybrook on Tuesday 8th September.
Unfortunately the member of the public did need to use the car so with a fantastic team effort (WIRES, RSPCA, the owner of the vehicle and family and neighbours) this wombat was relocated to the bush about 1 km away on the edge of this suburban area.
Wombat transport
Note the lovely red lidded transport container. The possum rescue basket taken to this routine 'possum' pick up was woefully inadequate!