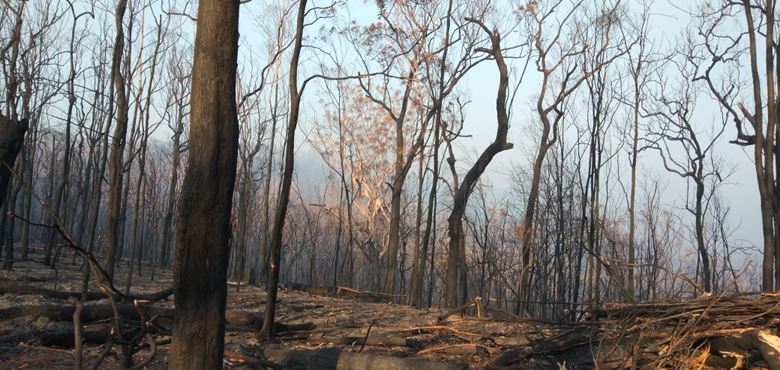 Over 1 Billion Animals Lost
Sunday, January 19, 2020
After months of concurrent fires devasting Australia there are still dozens of fires burning in NSW alone.
During the worst drought on record, over 10 million hectares of land has been burnt in Australia since the start of this fire season, over 6 million hectares of that is threatened species habitat and we are still only half way through summer.
On the 9th January Professor Chris Dickman from the University of Sydney conservatively estimated that over 1 billion animals had been affected by the fires and this figure continues to rise daily.
Very few animals can survive these mega-fires and there are grave fears that many species may now be on the brink of extinction. For those that survive major concerns for their welfare remain, as they face major food and water shortages and extensive habitat loss.
The Australian Geographic has aptly described these tragic events as a season in hell, estimating that most of the range and population of between 20 and 100 threatened species will have been burnt and explaining why the damage from these fires will be felt for decades.
In the first week of January WIRES 1300 line received over 7,800 calls and volunteers accepted over 1,000 rescues to assist sick, injured and orphaned native animals. As WIRES volunteers continue to rescue and care for animals, they are witnessing a tragedy unlike anything previously experienced in decades of work with Australian wildlife.
One of WIRES volunteers, Barbara, lives on a property that is 512 hectares, it was dedicated entirely to wildlife habitat and on the 26th November they were told to evacuate.
Describing their property before the fires Barbara said: "Our property was entirely for wildlife habitat – no farming. ....It now all looks like the photo below. ........We had an abundance of the usual wildlife expected to reside in a wet and dry sclerophyll habitat, with a large dam."
Although they were fortunate that their house was saved, when they returned a few days later, Barbara said:
"Our local 2 Magpies and 4 Butcherbirds and a few Kookaburras survived. 7 out of approx 15 Redneck wallabies survived, Cicadas, 1 Blue Tongue Lizard, 1 Sand Monitor, 1 large Lace Monitor, 1 Land Mullet and a small brown coloured snake. ......We have a few other birds returning, although no Noisy Minors. .....There are no snakes, no Echidnas, no Possums – the land is bare."
There is nothing that could have prepared any Australian for the tragedy that we are witnessing. Our hearts break for all the communities affected, for every individual impacted and for every life lost.
When the fires eventually end and the scale of the devastation is fully understood, WIRES will continue rescuing and caring for wildlife every day but we will also be working with relevant agencies to help protect and preserve suviving species long-term.
This video was created by the Australian Academy of Science to help explain the impact of the fires on wildlife.