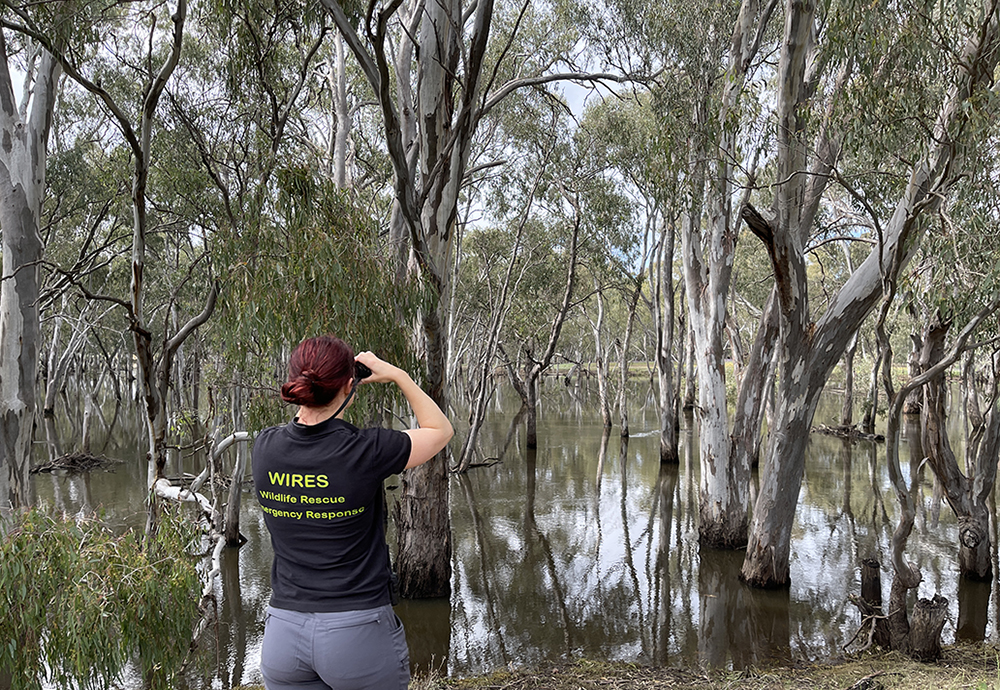 NSW Flood Response November 2022
Wednesday, November 16, 2022
Our Emergency Response Vehicles and Emergency Response Teams (ERT) have been deployed across NSW over the last few weeks due to the ongoing flood crisis. The role of the ERT and the ERT vehicles is varied and evolves as each crisis develops.
Firstly, the ERT responds to any calls to attend critical wildlife rescues as a direct result of the floods. Sadly, many animals are not able to be rescued due to the scale and ferocity of the flooding we are witnessing. As the floods recede the ERT team will be monitoring key habitat sites to provide welfare checks on known populations of koalas, macropods, and wombats. The team will be revisiting the Riverina region when water levels allow to follow up on a significant wildlife reserve and koala habit affected by recent floods.
Wildlife will be impacted for many months as vegetation is contaminated by floods waters and their habitats destroyed. WIRES works closely with National Parks and Wildlife Service and other wildlife groups to assess what support is needed during the recovery period. Supplementary food programs have been initiated where needed such as the isolated macropod population in Moana.
Secondly the ERT is also deployed to help volunteers located in flooding areas and to ensure the safety of both our volunteers and the animals currently in their care – especially when isolated or directly impacted by the floods. We have been liaising directly with our branches in the Central West, Riverina, Dubbo, Murray River and Weddin Lachlan areas and will be assisting in the replacement of damaged equipment and facilities. The needs of these branches will be continually assessed as the floods waters recede.
We ask the public to continue to report any native animals affected by floods and we thank everyone who has placed calls and assisted wildlife. Emergency services across the state have been pushed to the limit this year so we are very thankful to public for their support which has helped us to expand our much needed wildlife rescue ambulance service.
Key upcoming actives include:
• An Emergency Response team has been deployed to Central West to provide local rescue support and with the transfer of animals already in care.
• Supporting isolated macropods in the Murray River region by supplying supplemental food and working with NPWS and other wildlife groups to ensure they have ongoing support.
• As soon as water levels allow an Emergency Response team will be deployed to the Riverina region to monitor and check the welfare of a koala reserve/wildlife reserve that has been impacted by the flooding.
• Providing ongoing support to branches and members impacted by the flooding with teams ready to be deployed if needed.