New Bat Rehabilitation Centre opens at Goulburn
Wednesday, November 29, 2017
In a first for NSW, a new microbat aviary has been built near Goulburn. Owned and managed by WIRES Inc. and funded through a community grant from Holcim Australia, the Holcim Bat Flight Centre was officially opened on Monday, November 27.
The aviary will provide a place for microbats in care to regain flight fitness prior to their return to the wild.
The center has already received requests to accommodate microbats from areas throughout the state including Goulburn, Marulan, Yass, Young, Wagga Wagga, Coffs Harbour, and Sydney.
WIRES CEO Leanne Taylor said until now there have been no suitable aviaries in NSW able to accommodate the flight rehabilitation requirements for many of the microbat species that come into care.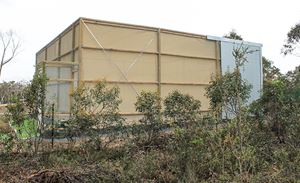 Despite their small size (only 4cm in length), many bat species are adapted for fast flight above the forest canopy. They need very l
large, empty spaces before they will even consider taking off and the new aviary is 10m long by 10m and 4m high.
Thanks to this generous donation from Holcim we now have a suitable space capable of accommodating almost every species of microbat found in NSW.
Holcim general manager Stephen Mossie said the company was delighted to support this excellent community-based environmental program. "The aim of this new center is to protect and preserve some of NSW's unique native species and help ensure their survival."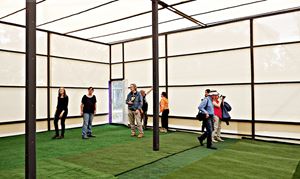 Microbats
There are approximately 32 species of microbats found in NSW, ranging in size from 4 to 40g.
They are nocturnal insect pest controllers, consuming up to 100 percent of their body weight in insects every night.
They are clean and sociable animals that do not gnaw wood, wires, or insulation. For more information visit https://www.wires.org.au/rescue/microbats
Although it is estimated that fewer than 1pc of flying foxes and bats carry Australian Bat Lyssavirus it is a requirement of the NSW Health Service that anyone working with these animals is vaccinated as a safety precaution.
Members of the public are warned to never take the risk of handling any bat but to call WIRES on 1300 094 737.