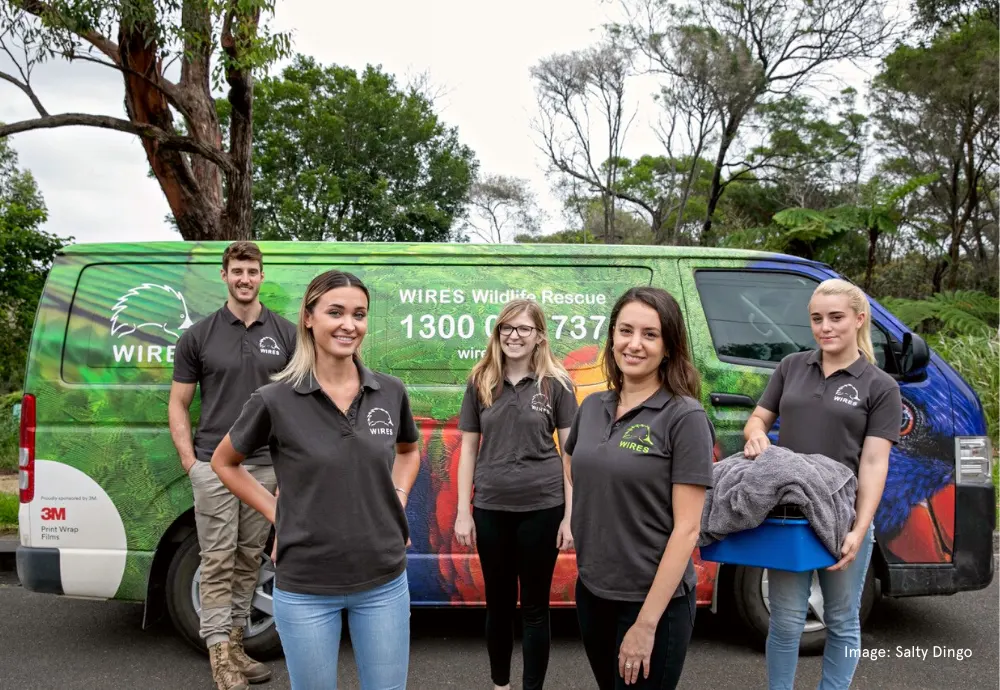 National Volunteer Week
Monday, May 22, 2023
National Volunteer Week provides an opportunity to express gratitude for the selfless efforts of volunteers who dedicate their time and energy to making a difference in the community. WIRES recently hosted a heart-warming Virtual Morning Tea to celebrate the extraordinary work of its volunteers.
The event, attended by passionate volunteers and staff, acknowledged volunteers' invaluable contributions in safeguarding and rehabilitating the country's wildlife. It also culminates a week of National Volunteer Week activities for WIRES volunteers including daily wildlife quizzes.
WIRES, which has been active for 38 years, owes its existence to the passion and dedication of its founder, Mikla Lewis OAM. During the Virtual Morning Tea, Mikla shared the inspiring story of WIRES' inception. In 1982, after being involved with Animal Liberation, Mikla received a call urging the establishment of a wildlife rescue organisation. Through collaborative efforts, WIRES took shape, with Mikla and a dedicated team working tirelessly to save injured and orphaned wildlife. Mikla's leadership over the next decade paved the way for WIRES to become the organisation it is today.
Among the highlights of the Virtual Morning Tea was Kenny Damaschke, Reptile Coordinator of WIRES' Mid North Coast branch. Kenny, a devoted volunteer, shared his personal journey and the impact of his late father, Tom Damaschke, who was a beloved WIRES member for 22 years. Kenny's commitment to reptile rescue and rehabilitation demonstrates the lasting legacy of his father's dedication. Through his heartfelt words, Kenny emphasised the importance of community engagement and collaboration in preserving and protecting Australia's unique wildlife.
National Volunteer Week provided a platform to express appreciation for the 4,000 dedicated volunteers who form the backbone of WIRES. These passionate individuals contribute their time and skills in various capacities, including critical transport, animal care and rehabilitation, and a service to the community. WIRES' Membership Team, responsible for supporting and engaging volunteers, was recognised for their invaluable work in retaining a committed and vibrant volunteer base. The event served as a reminder that volunteers are true changemakers, fostering positive change within their communities and making a significant impact on the lives of countless animals.
WIRES' Virtual Morning Tea for National Volunteer Week served as a heartfelt tribute to the exceptional volunteers who contribute their time, energy, and expertise to protect and rehabilitate Australia's wildlife. It was a great opportunity for members from branches across NSW to celebrate together and compete to bring home the prize for the best matching mug and outfit!
As we wrap up on National Volunteer Week 2023, this virtual catch-up was a true testament to the enduring spirit of WIRES volunteers and their ongoing commitment to preserving the country's unique biodiversity. Their dedication and passion continue to inspire and remind us of the profound difference that can be made through collective effort.
WIRES has been rescuing and caring for sick, injured and orphaned native animals for over 35 years. Today it is Australia's largest wildlife organisation, though our mission remains the same - to actively rehabilitate and preserve Australian wildlife and inspire others to do the same. We rely on the generosity of the community to carry out our wildlife rescue and rehabilitation. If you would like to support WIRES' work, you can make a tax-deductible gift or become a wildlife rescuer.