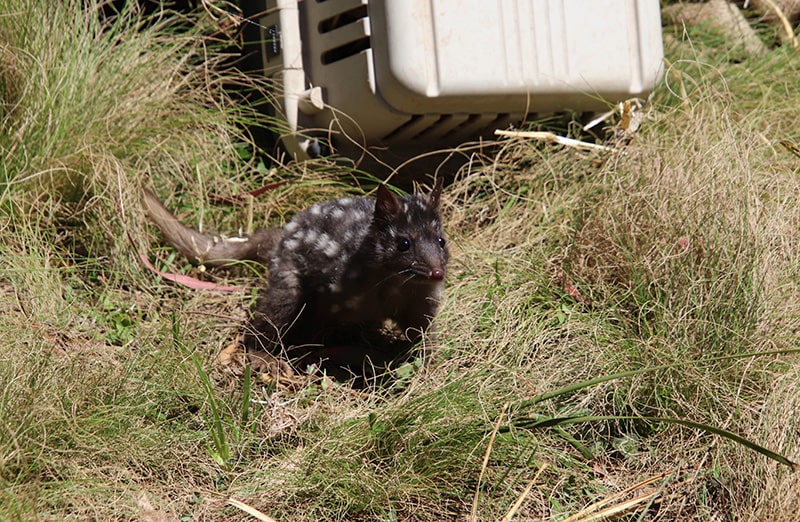 National Science Week: Conservation Ecology with Aussie Ark
Wednesday, August 18, 2021
To celebrate #NationalScienceWeek we caught up with our partners AussieArk to talk about conservation ecology, threatened species and the Barrington Tops Sanctuary.
Could you tell us a bit about Aussie Ark, your mission and why it is so important for the future of Australian wildlife?
Aussie Ark was established in 2011 as 'Devil Ark', with a focus on saving the iconic Tasmanian devil from extinction. Since then and due to overwhelming success, the role of the organisation has expanded, and now has vision of creating a long-term future for our threatened Australian species. Aussie Ark will secure wild sanctuaries to conserve our native wildlife, free from unnatural predation. Aussie Ark is an adaptive, innovative, private organisation, committed to changing the trajectory declining species.
There is a focus on threatened species - what does it mean for a species to be threatened and how do we bring them back from this status?
By definition Threatened species are "any species which is likely to become an endangered species within the foreseeable future throughout all or a significant portion of its range". Aussie Ark's model of conservation revolves around creating insurance populations of endangered species, ensuring they do not disappear from this earth. We hope that by creating these populations and then returning them to the wild, their population numbers will continue to boom!
WIRES strongly believes in collaborative action. After the tragic 2019/2020 bushfire season, we began our partnership with Aussie Ark in hopes to improve outcome for a range of unique Australian species. What have been your highlights of the project so far?
Aussie Ark is thrilled to be working alongside WIRES and with the support of WIRES Aussie Ark has been able to develop some incredible programs. WIRES have supported the DevilComeback program, the return of Eastern Quolls to the Barrington Tops and so much more. 2021 has even more projects on the horizon and the support of WIRES ensures they are possible!
Late last year, we attended the opening of the Barrington Wildlife Sanctuary and were so excited to see the release of many species into the protected habitat. How do sanctuaries like this work to rebuild threatened population?
Fencing has become a reality for conservation in Australia, being the only accountably effective method of keeping feral predators' cats and foxes from decimating our native mammals, birds, amphibians and reptiles, and having catastrophic effects on the ecosystem. Sanctuaries provide a safe space for wildlife to flourish and thrive without threat.
What do you believe are the next steps to the restoration and recovery of Australian wildlife?
At this stage next steps include the continuation of sanctuary/ safe haven creation, and the development of insurance populations. These activities guarantee the survival of Australian species so that long term they are still here to enjoy.