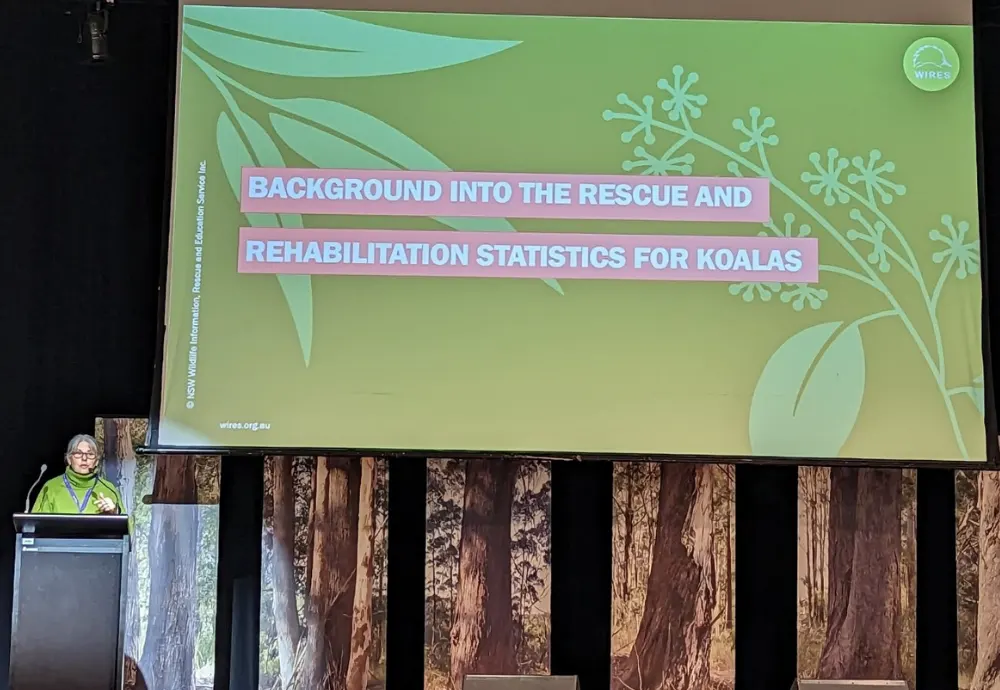 National Koala Conference
Thursday, June 15, 2023
In May 2023, the Port Macquarie Koala Hospital hosted the third National Koala Conference, where WIRES were invited to discuss the advancement of koala conservation efforts. The event brought together passionate individuals and organisations dedicated to the wellbeing of koalas, allowing them to exchange the latest research findings and innovative ideas for the benefit of sick, injured, and orphaned koalas, as well as broader koala conservation concerns.
Throughout the 3-day conference, more than 50 leaders in their field presented talks on key issues and projects surrounding koala care and conservation. This included discussions on chlamydiosis treatment, wild koala breeding programs, the impact of climate change on koala populations, stemflow research, eco-linguistics and decolonisation, indigenous knowledge in conservation, koala rehabilitation, monitoring methods, the microbiome, community engagement, food tree species, the effects of fire on eucalypt nutrition, and stress in koalas, among others.
Two speakers from WIRES made notable contributions to the respected lineup of talks. Dr. Tania Bishop, WIRES Wildlife Veterinarian, presented on "Managing the Acute Trauma Presentation of Koalas." Her talk resonated with the audience, resulting in an inundation of requests for more information. Vickii Lett (pictured), WIRES State Koala Coordinator, addressed "The Reality of Koala Rehabilitation in NSW," emphasising the importance of accurate care data collection among koala carers to inform policy and decision-making. Vickii left the conference with several new connections eager to collaborate on collective data sharing across the state.
WIRES' contributions to koala conservation, including funding projects, and participation in research projects, were also acknowledged.
Although the challenges facing koala preservation are significant, such as habitat loss and disease spread within koala populations, the conference provided hope. The gathering showcased inspiring individuals from organisations including Koala Conservation Australia, Science for Wildlife, CSIRO, the NSW State Government, and universities across the country, all committed to the collective mission of saving this treasured species.
The National Koala Conference served as a catalyst for collaboration and innovation, by sharing critical knowledge, promoting data collection, and fostering partnerships. Together, it is possible to overcome the challenges and ensure a brighter future for koalas across Australia.