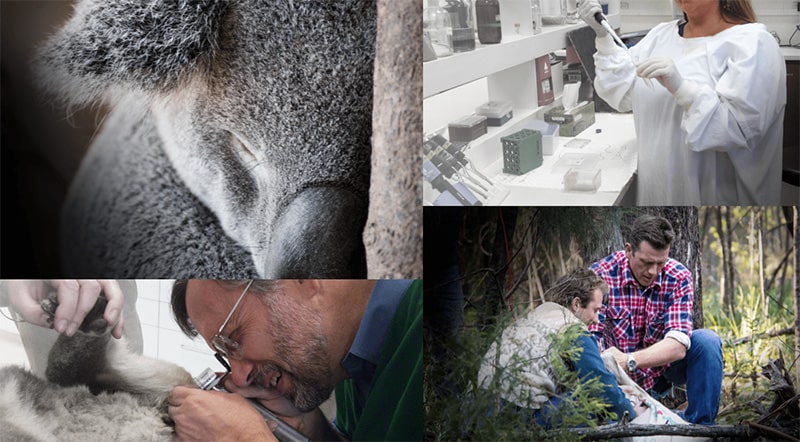 Koala Health Hub | Project Update
Sunday, July 4, 2021
Following the major 2019/20 bushfires, the Koala Health Hub (KHH) at the University of Sydney was the recipient of a three-year grant from WIRES. The grant has sustained the KHH and allowed it to respond to a dramatic increase in need for koala care and management following decades of drought and other significant impacts on their populations.
WIRES funding is being used for continued technical, administrative, and postdoctoral support. WIRES and KHH have a strong history of working together to deliver improved health outcomes for koalas and this tranche of funding has allowed KHH to implement new initiatives and projects.
New key programs include:
Koalavet
In response to the need for improved veterinary coordination and training highlighted by the 2019/20 bushfires, KHH has established a "Koalavet' online video forum. Membership comprises over 50 koala/wildlife vets from all states and meets every six weeks.
Key topics being addressed include:
Criteria for triage
New approaches to the treatment of chlamydia disease
Approaches to the treatment of burns
Chlamydia testing and evaluation
Appointment of Postdoctoral Research Fellow
Research Fellow, Dr Belinda Wright has joined the team on a two-year term. Belinda brings expertise in genetics, genomics and bioinformatics. She has an applied focus and extensive experience in bringing her work to practical outcomes for the management of many wildlife species including Tasmanian devils and koalas.
Appointment of PhD student
In January, KHH recruited an additional PhD student, Yasmine Muir, whose project aims to improve the diagnosis of koalas at admission and develop indicators of successful rehabilitation and release to enhance welfare outcomes and efficiency.
Honours projects
The expertise of the new postdoctoral fellow is critical to two Honours projects KHH has initiated in early 2021.
Association of koala genetics with susceptibility to chlamydial disease. This project trials a new approach to investigating immune genes in koalas and examines their association with chlamydial infertility in female koalas. This is important to inform genetic management of fragmented koala populations.
Genetic predisposition to cryptococcosis in koalas. Based on evidence of genetic predisposition to fungal infections in humans, this project sets out to find and describe the same gene in koalas and investigate its association with cryptococcal disease.
WIRES looks forward to providing updates on KHH's important work in the years ahead.