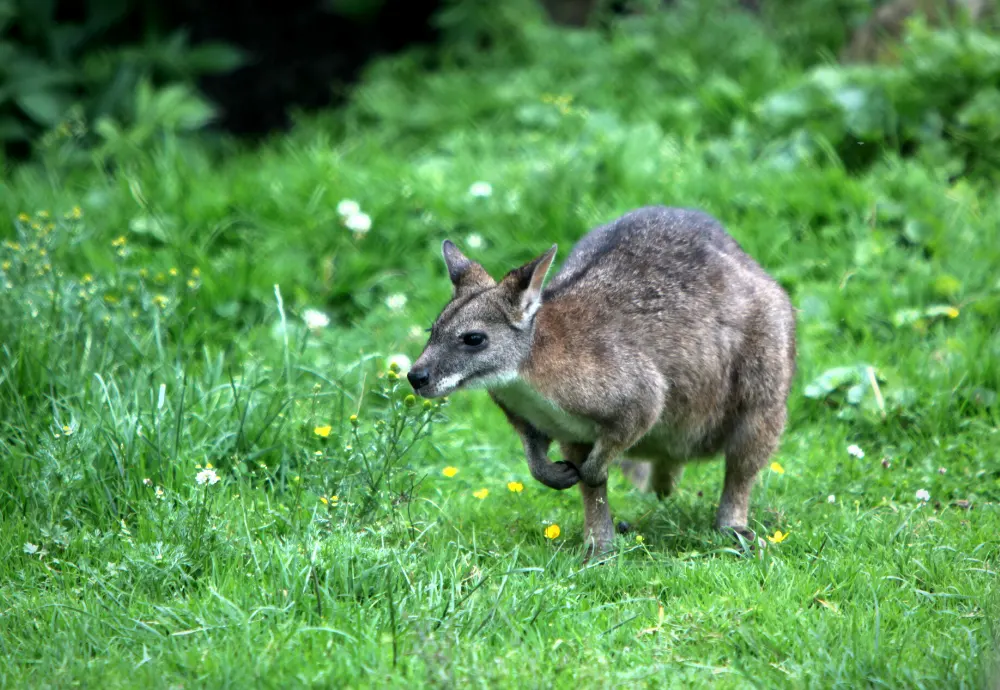 Helping feed 350 Parma Wallabies
Friday, March 31, 2023
WIRES is working with wildlife conservationist Peter Piggott to feed a group of 350 Parma Wallabies, a vulnerable species in New South Wales.
Mr Piggott has been caring for the wallabies at his Mount Wilson property for over 50 years, after bringing the vulnerable species back to Australia from New Zealand in 1969 when the animal was believed to be extinct.
The Parma Wallaby is identifiable by its small size (head and body length around 52 cm) and greyish-brown fur on the back and shoulders with a dark stripe along the spine and white fur on the cheek, upper lip, and belly. When hopping, the Parma Wallaby is close to the ground and almost horizontal, keeping its forearms tucked tightly against the body, and tail curved upwards.
After caring for and feeding the group of wallabies for over 50 years from his own pocket, Mr Piggott was unsure how he could sustainably continue the wallaby conservation project. He was put in touch with WIRES Head of Wildlife Welfare, Matt French, who met with Mr Piggott to understand the welfare needs of the Parma Wallabies.
"Our first reaction was the huge commitment and care Peter has put into these animals," says WIRES Head of Wildlife Welfare Matt French. "Animal welfare is obviously our highest priority so we wanted to find a way we could help Peter to manage the wallabies' wellbeing."
When the Welfare Team visited with Mr Piggott, food was identified as the key need for the immediate and continued care of the wallabies, with the wallabies costing $2,000 a month to feed. As Mr Piggott was unable to continue this spending, WIRES is now subsidising the food costs for the Parma Wallaby conservation project, through WIRES Wildlife Food Support Program, proudly supported by WIRES and Woolworths.
WIRES Welfare Team provides support and training within WIRES on relevant welfare legislation, codes of practice, and best-practice rehabilitation, and works with external agencies to improve wildlife welfare outcomes. The Welfare Team also represents WIRES on several ethics and welfare committees and works with addresses appropriate agencies to action animal welfare concerns.
Mr Piggott says WIRES has given him hope for the future of the Parma Wallabies' conservation. WIRES is delighted to be helping Mr Piggott with the immediate welfare needs of the 350 Parma Wallabies and will assist all parties involved to implement the best long-term solutions.