Help us save wombats
Tuesday, October 30, 2018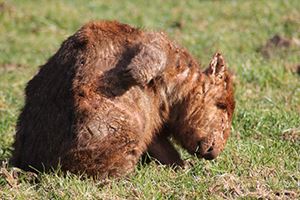 Wombats are an iconic Australian animal but they are facing increasing threats including vehicle collisions, habitat loss, and mange.
Mange is responsible for hundreds of wombat deaths every year, yet it is relatively unknown.
Mange is a skin infection caused by mites. Left untreated, infected wombats slowly succumb to the complications of the disease within 2-3 months, leading to a slow and painful death.
The wombat's fur falls out, its skin becomes hardened and constantly itches. Their eyesight and hearing are also impaired. It is heartbreaking to see.
Thankfully, it is treatable!
It is a long and difficult treatment regime, which involves 16 long weeks of dedication and physical work by WIRES volunteers.
WIRES is committed to treating as many wombats as possible as well as investing in the new generation of Bare-nosed wombats by raising and releasing orphaned joeys.
Maggie, Flick and Fiona are just three of the many joeys WIRES take in every year. These three cheeky girls are already learning vital skills they will need to survive in the wild.
Like all kids, they are having the best time exploring the world around them, learning to burrow and happily covering themselves in dirt under carer Wendy's watchful eye.
By supporting the development of these joeys WIRES does everything possible to ensure they grow into healthy adults and return to the wild with the best chance of surviving and rebuilding the wombat population.
The mange medication and milk formula for joeys are both huge expenses for us. By donating to WIRES, you will be helping us conserve the Bare-nosed wombat population in NSW.