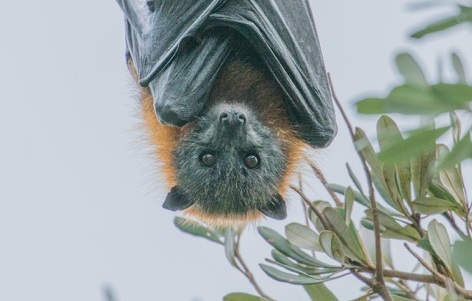 Emergency Help Needed for Flying-foxes
Monday, September 16, 2019
Large areas of Northern NSW and South East Queensland are experiencing what appears to be a severe flying-fox starvation and dehydration event.
It is thought that the unusually dry conditions have affected flowering and fruiting of their usual feed trees. Moisture content on foliage is currently very low and fruit and flowers lack the normal amount of moisture, which is where flying-foxes, commonly known as fruit bats, get their nutrition and hydration.
WIRES branches are receiving unprecedented numbers of flying-fox calls for this time of the year and volunteers are overwhelmed by the number of animals needing urgent assistance.
Spring and summer are always extremely busy for wildlife rescues, this is before the additional stress of emergency events such as fires, heat-stress events and dire food and/or habitat shortages. Spring is also the start of the birthing season and the current situation may see more females get into difficulty birthing and more pups may be separated from their mothers.
Emergency Rescue Advice for Flying-Foxes
If you see a sick, injured or orphaned flying-fox please keep your distance, do not touch it or try to contain it. Please keep any pets and other people away from the animal as well.
If the animal is obviously injured, if it's a young pup, or if it's on the ground, please call WIRES 1300 094 737 for assistance. If it is a hot day when you are waiting for a rescuer to arrive and you are able to safely provide some form of shade over the flying-fox to keep it out of the direct sun, please do.
If you are in Northern NSW where the current emergency is underway including the Mid North Coast, Clarence Valley and Northern Rivers, if you see an animal alone in a tree that appears uninjured, simply let it rest. If it is still there the next day or if you are in other areas of NSW please call WIRES 1300 094 737 for rescue advice and assistance.
For animals that appear uninjured that you are observing from a distance to confirm if they can return to their colony after enough rest, if it is safe to do so, please put fruit such as apple or pear high up in nearby trees, making sure not to go close to the bat, this may help the animal get enough energy to return home.
If the animal is dead it is safe to scoop it up in a towel or newspaper to dispose of it.
Flying-foxes are frequently rescued after being caught and injured in fruit netting or on barbed wire, if you see any animal caught in netting or on wire, call our Rescue Line 1300 094 737 immediately for assistance. To help protect native animals from these injuries in future, please read our factsheets to find out more about wildlife friendly netting and wildlife friendly fencing and share them with your friends, family, colleagues and neighbours.
Threatened Species Preservation
Flying-foxes are very intelligent creatures and play an important role in Australian environments. They are natural pollinators and seed dispersers and are crucial for the survival and regeneration of our native forests.
With flying-foxes, particularly Grey-Headed Flying-foxes already listed as vulnerable to extinction, community help is needed to save as many individuals as possible and long-term to save these species.
To assist please plant native trees and plants so that in the future more wildlife will have access to food, consider becoming a wildlife rescuer and carer to help native animals in distress, and donate to WIRES Emergency Fund to help WIRES respond to this event and future emergencies as they occur.