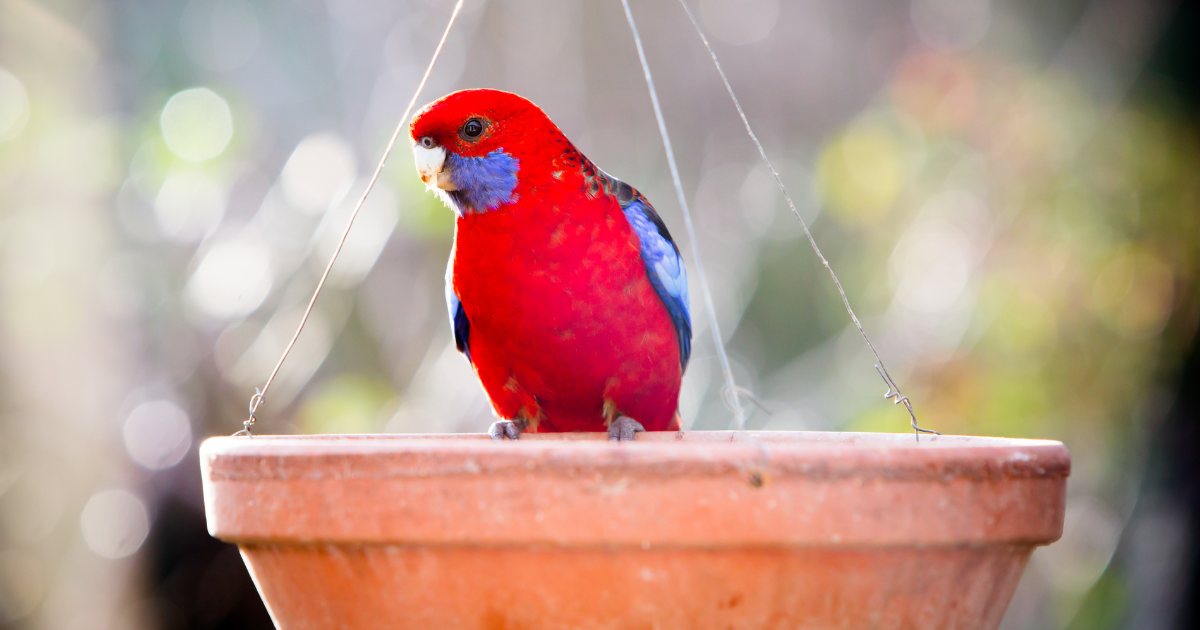 Emergency Food, Water and Shelter for Wildlife
Friday, January 10, 2020
Updated 27th January 2020
Many areas of Australia are experiencing the worst drought on record and unprecedented catastrophic fires that have burnt millions of hectares of land. The combination of these events has been tragic for wildlife with conservatively over 1 billion animals estimated to have been affected and surviving animals are facing dire food and water shortages and lack of habitat.
Normally WIRES would not recommend feeding native animals in the wild. During this time of crisis, however, wildlife specialists including WIRES are working with landowners and community groups to help surviving wildlife with supplementary food until the situation improves. If there is still vegetation, providing water only is the best way to help.
The food requirements of different species vary immensely and feeding wildlife the wrong food can be very detrimental to their health. For community members wanting to assist locally with support feeding and water provision, we recommend you connect with your local wildlife volunteers, environmental groups like Landcare and government agencies like National Parks and Wildlife and Local Land Services to partner with them and ensure the help being provided will deliver the best long term outcomes for the animals involved. There is also a detailed fact sheet on Helping Wildlife in Emergencies compiled by Environment NSW in consultation that covers advice on feeding of several species.
If you find sick or injured native animals, please read our emergency advice and contact WIRES or the nearest wildlife rescue organisation for advice and assistance.
Water for Wildlife
Many animals can only survive a matter of days without water. WIRES recommend putting out fresh, clean water for wildlife on very hot days.
During the fire and drought emergencies supporting wildlife with additional access to water is an ongoing priority.
Provide containers of water, ideally in the shade. Do not put electrolytes or sugar in water sources as they can be harmful to wildlife.
Keep the containers clean and change the water regularly, daily where possible, to prevent the spread of disease.
Use strong containers to avoid collapse, and place them on firm surfaces so they don't tip if a heavy animal tries to use them.
Containers of different sizes and depths at different locations are ideal for a range of different birds and animals.
Some containers placed under bushes can provide shade and assist birds to be better placed to escape from predators.
Place sticks or a stone in the containers to act as a ramp for exhausted smaller animals a way out if they fall in.
If you have found an animal in distress, you can offer it a shallow dish of water to drink from. If it is too weak, you can use an eyedropper to gently put a few drops on its lips or beak. Squirting water from bottles can cause choking and is not recommended.
If you find a distressed animal that is showing signs of heat stress but is conscious and appears otherwise uninjured, gently mist them from a distance with a very light spray of water or place a sprinkler nearby.
If you own a swimming pool, always drape something over the edge so that animals have a surface to grab hold of and climb out. A length of heavy-duty rope or even a bodyboard, secured at one end to something heavy outside the pool, is ideal as it does not absorb water and provides a platform for an exhausted animal to rest on. Pool steps are frequently too high to allow animals an easy exit and placing bricks or large stones to the side of each step can make it easier for animals to gain a foothold and climb out. Check pools and skimmer boxes twice a day for wildlife that may have fallen in.
You can also set up semi-permanent drinkers like the one pictured below and the one used by Arid Recovery.
Arboreal drinkers installed in trees are excellent. Many species, such as greater and squirrel gliders, do not come to the ground to drink, and koalas also prefer to drink from a tree. Learn how to create an arboreal drinker in this video from Peter Ridgeway.
Place water and feed away from public roads (at least 50 metres), and a distance of 500 metres between water stations is recommended.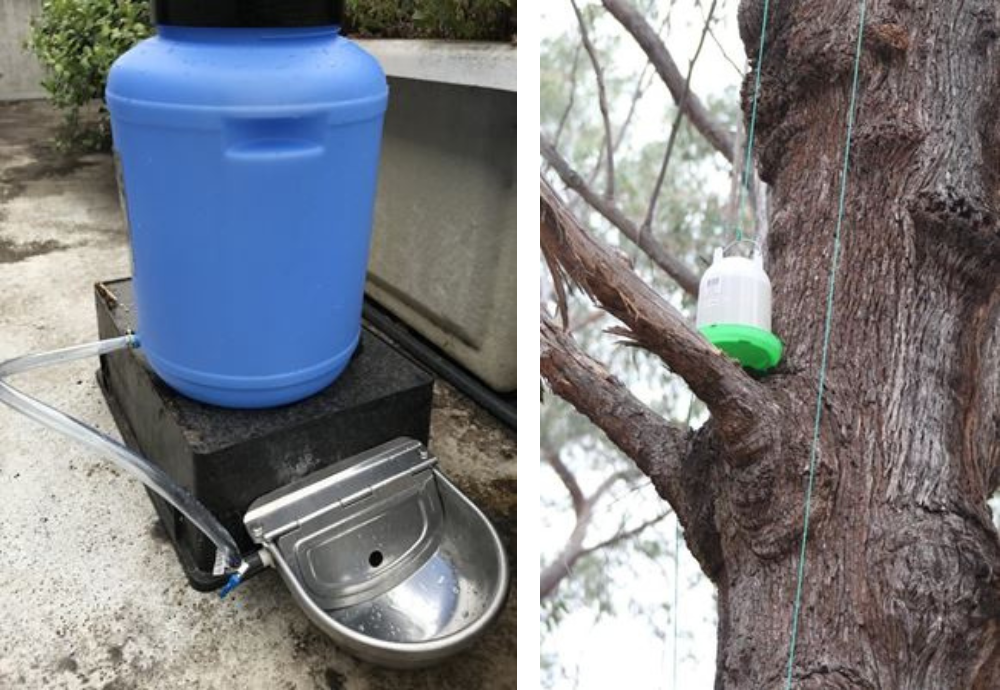 Support Food for Wildlife - further information can also be found at NSW NPWS
Regularly move locations to reduce disease and predator risk.
Always try to feed as close to the natural diet as possible
For small mammals consider removing exclusion devices from some or all plants in your yard you may normally try to protect from wildlife.
Macropod pellets are best to put out for kangaroos and wallabies, as they can be hard to get goat pellets can also be used. Please use the image below as a guide to which pellets are appropriate.
Some hay can be used for macropods and wombats, Teff or grassy are the best options. Do not use hay in bushland where it poses a high risk of introducing serious weeds.
Chopped fruit can be put in a bucket and hoisted as high up a tree as possible with a rope.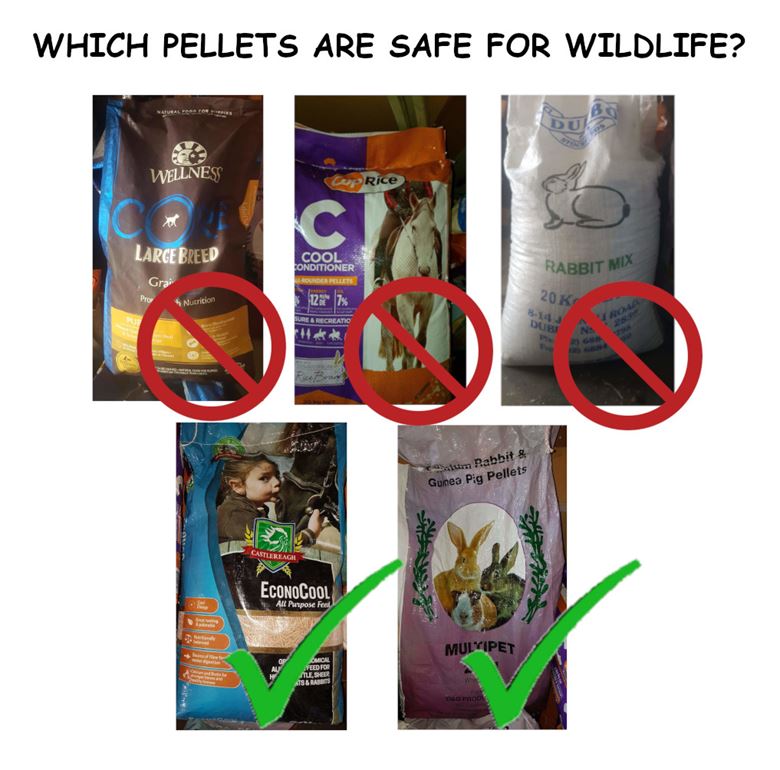 Remember:
What can be offered to one animal in small amounts may be harmful to another and could result in debilitating disease or even death.
Remove uneaten food and clean all food containers daily to prevent the spread of disease and attract unwanted pests.
Never throw birdseed directly onto the ground.
Never feed bread, honey, sugar, chocolate, dairy products, raw meat, cooked bones, bread, baked goods, avocado, rice, banana, onion, garlic, molasses, brassicas or processed foods with artificial sweeteners, as they can be very harmful.
Do not feed wildlife mixtures of peanut butter, honey and rolled oats (known as bait or wildlife balls) as they are harmful to some animals.
When food or water is replaced, all containers must be cleaned and dried thoroughly. Also, be sure to wash your hands before and after to reduce the risk to you and the wildlife you are trying to help.
If you do supply food, please do so only with the authority of the landowner (this includes public land). The recommendations in each state or territory may differ, so if you are in an area outside of NSW, please follow the guidelines for your area; see Wildlife Health Australia's website for links.
It is recommended that guidance and approval be obtained from authorities prior to providing any food to isolated populations of threatened or endangered species as regulated programs may already be in place.
Avoid providing food where non-native animal populations may benefit, particularly pigs, goats and deer. These species can aggressively dominate food stations and threaten the recovery of native species.
Keep written records of what is offered, where and when, and animal species and numbers present
As conditions improve, phase out water and food stations to minimise habituation and dependence on supplementary feeding. As soon as possible, animals should forage for their own food.
Shelter for Wildlife
Make your property and garden wildlife-friendly long-term by growing native food plants, creating suitable habitats, limiting the use of chemicals and pesticides and keep cats and dogs indoors to protect wildlife that may be vulnerable to predators while in a weakened state.
Provide a number of different size nest boxes, dreys and possum boxes